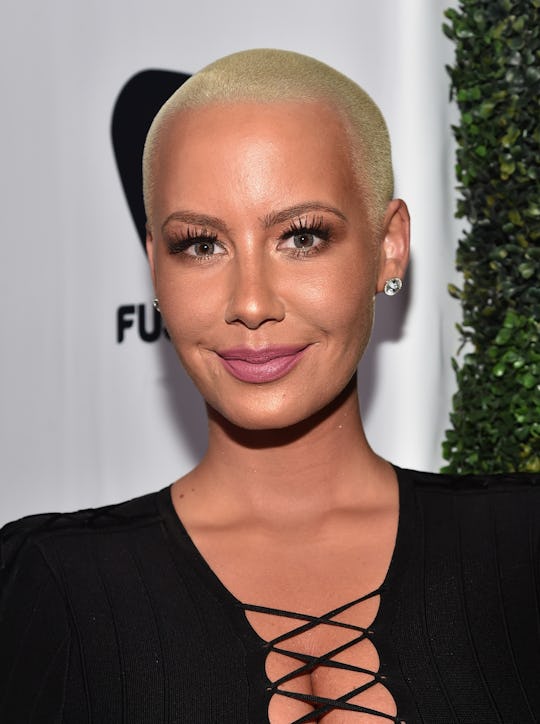 Alberto E. Rodriguez/Getty Images Entertainment/Getty Images
Photos Of Amber Rose & Her Son Will Give You Serious Parenting Goals
It's hard living in Hollywood when your biggest claim to mainstream fame is who you previously dated or who you are currently dating. Until recently, that was what Amber Rose was dealing with, even though Rose is much more than her past relationships like Kanye West and Wiz Khalifa. Since before she made her Dancing With The Stars debut, Rose has been garnering the kind of attention that has given her more fame in her own right. And the photos of Amber Rose and her son are where it's at for the contestant, because she proves that the relationship between a little boy and his mom can be an amazing thing if you are present and try to make it that way.
Almost four years ago, Rose had her son Sebastian with Wiz Khalifa but since then, Rose and the rapper broke up. Rose has proven herself to be a pretty great single mom to Sebastian and the dynamic they seem to have together is pretty amazing. On Rose's Instagram, she's all about her latest venture with Dancing With the Stars, but she's also like every other mom out there who wants to fill her feed with photos and short videos of her son because he's adorable and because she can.
When she's not Snapping videos of her and her son, Rose is posting Instagram videos of the two of them or photos of them getting into antics like Sebastian trying on one of her wigs or making a mess with his ice cream cone. Basically, Rose proves she's a bomb ass mom and Sebastian makes us wish all three-year-olds were that sweet.
Like This One Of Rose Teaching Her Son Couture
The caption for this photo reads, "Mommies can do it all," and as most of us can attest to, we really do. Whether you're a single mom or one with a partner, you will be found carrying shopping bags and a toddler who is too big to need to be carried on any given day.
This Video of Rose Teaching Her Son To Speak A Lot Better Than Most Two-Year-Olds
Pretty much every parent is guilty of exclaiming, at some point, how much of a genius their toddler is or how advanced they are, but can someone please tell me how this kid seemed so smart at two?
When Rose And Sebastian Wore Matching Jackets
Moms tend to be all about having girls so they can wear matching clothes and do it up that way, but who ever said we can;t do that with boys too? Rose and her "Pumpkin Pie", as she affectionately calls him, do it right.
This Video Showcasing Sebastian's Acting Skills
The kid comes from attractive and talented parents who also happen to be super famous, so it's honestly no surprise that he can hold a room's attention with his emotions.
Also This Video That Shows Rose Being A Regular Mom
Promising to buy little Sebastian pumpkin pie for dinner is probably the cutest thing ever. It also makes you love Rose even more for being what seems like a normal, real parent.
Just Doing Their Thing Together
What mom hasn't taken these car selfies, featuring her kid in their car seat in the back? It's kind of par for the course as far as parenting goes when you're out and about with your toddler, as a duo.
That Time She Took Him Trick-Or-Treating
The fact that Rose took her son trick-or-treating herself and was obviously super present the whole time says a lot about their relationship. Not only that it's just a normal thing for her to be there, but that she's just like every other parent in wanting to film every major aspect of her kid's life.
This Good Morning Birthday Video
Was Sebastian sleeping in Rose's bed and they woke up together? Or were they just spending a morning in a mess of blankets and pillows? Either way, they're both evidence that Rose and her son have a legit bond.
This Photo Showing The Very Real Mama & Son Love
Seriously, this photo of the two is just too cute for words. No matter what her celebrity is, photos like this remind you that Rose and her son have an undeniable bond that is completely enviable.