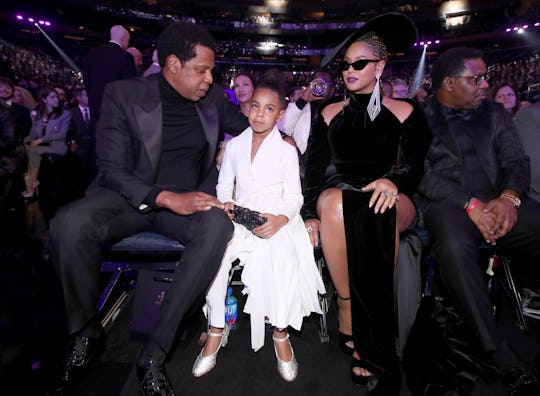 Christopher Polk/Getty Images Entertainment/Getty Images
These Photos Of Beyoncé & Blue Ivy At The Grammys Are Pure Mother-Daughter Goals
Just you had any doubt that Beyoncé and Blue Ivy were pure mother-daughter goals, you need look no further than these photos of Beyonce and Blue Ivy at the 2018 Grammys because it will seriously give you all the feels. Is it possible for me to join this family? Please?
A majority of the evening was dedicated to many fans wondering where in God's name Queen Bey and Blue were all night. The two were mysteriously absent for the red carpet when many thought they would be rocking their Grammys looks. As time went on, more people began to worry that they wouldn't show up at all. In fact, the camera kept cutting over to JAY-Z, who seemed to be going solo for the awards ceremony. But never fear, they did appear in the crowd eventually and I think we can all agree it was worth the wait.
Beyoncé rocked a gorgeous black gown, huge diamond earrings that I'm fairly certainly would rip my ear lobes to shreds, and an amazing hat. Next to her, Blue had donned an all-white ensemble and classy silver shoes. Suffice to say, they both definitely looked stunning as we all knew they would.
I mean, you can even imagine a duo more glamorous or epic? (That is definitely a rhetorical question because of course you could not.) I'm not sure what made them skip out on the red carpet because these looks definitely deserve to be in the spotlight. Maybe they were running late and weren't able to make it on time. Maybe it was completely intentional and they wanted to make a grand entrance mid-way through the evening. (That honestly sounds like a very Beyoncé thing to do and I totally respect it.)
Sure, it's true that JAY-Z is also in a majority of these photos, so why am I dissing him, you ask. I assure you this is unintentional; look, I had the pleasure of seeing JAY-Z all night. He was old news. Beyoncé and Blue Ivy, on the other hand, kept me on the edge of my seat. Plus, it's just amazing what these two can convey with just a look. Together, they make pure magic and would give Lorelai and Rory Gilmore a run for their money in the mother-daughter department. (That's right, I said it.) Even when Blue tried to stop her mom from clapping too much after a performance, the internet couldn't handle this hilarious dynamic.
And when you're a member of the Carter family, it means you're bound to get a few surprise pop-ins at your seating area. Like Alicia Keys may casually stop by to say hi. You know, totally normal, everyday stuff.
Nope, definitely not jealous, not at all. However, this isn't the first time Beyoncé and Blue Ivy stole the show for this particular awards ceremony. In 2017, Blue in particular really stood out thanks to her sharp pink tuxedo and a cat-shaped purse that put my own closet to shame. And while the twins, Sir and Rumi, didn't attend the 2018 Grammys (you know, considering the fact that they're still infants and this shows lasts about 900 hours), the Carters remained the talk of the night and I wouldn't have it any other way.
I guess what I'm trying to say is that this family continues to amaze me both when it comes to their talent and style. And because of that, I can forgive them for making me worry we may have gone all night without seeing them at all.
Check out Romper's new video series, Romper's Doula Diaries:
Watch full episodes of Romper's Doula Diaries on Facebook Watch.