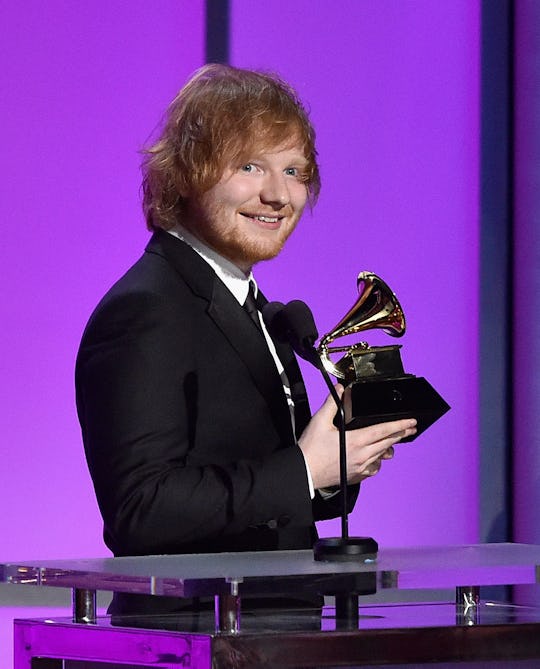 Kevork Djansezian/Getty Images Entertainment/Getty Images
Photos Of Cherry Seaborn & Ed Sheeran Are Hard To Find If You're Not Their Famous Friend
Taylor Swift's carefully curated Instagram album of her Fourth of July celebration was full of stars, stripes, and the other kind of stars, as is to be expected, but the most notable inclusion was a photo of Cherry Seaborn and Ed Sheeran smooching beneath a slightly confusing banner bearing the phrase "HAPPY 1ST ED-IVER-CHERRY," presumably Swift's way of wishing a happy first anniversary to the secretive couple. It was just one of several custom banners celebrating the romantic milestones of Swift's squad, including the engagement of non-famous couple Abigail Anderson and Matt Lucier. Technically, they were the subjects of the photo, but all anyone's talking about are the pair kissing in the background.
The fact that the couple had been together for a year already came as a surprise to most, since it wasn't until last September that E! Online deduced the two were dating. The paparazzi spotted Sheeran and Seaborn three times in just two days back then, running errands in Manhattan and attending a Mets game. The Mirror, which figured out that the couple attended Thomas Mills High School together, caught them again a month later leaving the premiere party for Sheeran's documentary, Jumpers for Goalposts. The Daily Mail spotted the couple together again in January, and other than that, it seems that only Sheeran's famous pals have seen the two together.
Sheeran doesn't even post his own photos of them, perhaps out of privacy concerns, or maybe just because the singer temporarily quit social media back in December. I'm betting on the latter, since Swift's Instagram is so impossibly perfect, I can't image one single image getting published without a whole team carefully combing over it beforehand. Not to mention the fact that she tagged Sheeran in the pic, meaning that she knew full well he and Seaborn, formerly a highly-ranked field hockey player for Duke University, were visible in the background.
The couple was also featured in another Instagram pic last fall, by Swift's then-boyfriend, Adam "Calvin Harris" Wiles. Presumably we won't be seeing them in his feed anymore, since his breakup with Swift is looking pretty acrimonious, and Sheeran is known to be a very close friend of Swift's.
Honestly, I can't figure out how all of these celebrities are managing to hide their relationships and pregnancies from the public, especially since nearly every human being has a camera connected to the internet right in their pockets at all times. However Sheeran and Seaborn are pulling it off, I applaud them. But honestly, would it hurt to throw their fans a pity photo every now and then?