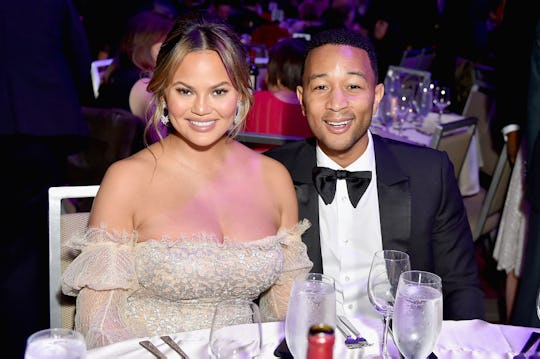 Mike Coppola/Getty Images Entertainment/Getty Images
Here's When Chrissy Teigen Will Probably Release Photos Of Baby No. 2
Model and businesswoman Chrissy Teigen and her singer-songwriter husband John Legend welcomed their second child, a son, late Wednesday night, according to an ecstatic tweet from Teigen. Since the tweet, fans have been patiently waiting for an update from the couple. The countdown has officially begun until the first photo of Chrissy Teigen's new baby is released, and though it's a super exciting time for fans of the couple, it's always important for fans to keep in mind that this is an important time for their family, and they can choose to share photos of their new child however, and whenever, they so please.
The expectation that every new mom — especially one in the public eye — has to share photos of their new kids immediately is kind of toxic. Yes, it's exciting. Yes, everyone wants to see what they look like. But as any new mom can understand, those first few days with your child make you feel more protective of them than ever, and you're under no obligation to share those moments with your whole extended circle, or even the world at large — whether you're famous or not. With all of that being said, Teigen and Legend have not yet expressed any reservations about sharing parts of their family's life with the world. The couple shared photos of new baby Luna a few days after her birth, fans can probably expect to be meeting baby Stephens sometime in the next few days.
Let's start at the top: late Wednesday night local time, Teigen shared a tweet announcing that she had delivered, saying: "Somebody's herrrrrrre!" At the Grammy's this year, she confirmed the baby's sex with a photo of herself that simply said: "Mama and her baby boy," Us Magazine reported. However, fans watching closely likely already knew that she was going to be having a boy. Insider reported that in January 2017, she revealed that the only embryo she and Legend had left from their IVF (in vitro fertilization) was male. "Since this is coming up again, I said our next baby would be a boy because that is the embryo we have left," she said. "A boy. So. Yeah."
But as for how Teigen will be sharing photos of her son going forward, fans can look to how she approached it with Luna. On April 14, 2016, her daughter was born, Teigen shared a photo of a scale showing 6 pounds and 11 ounces, and said: "She's here! Luna Simone Stephens, we are so in love with you! And sleepy. Very sleepy." So far, this is consistent with her son's announcement: she let fans know she safely delivered, but without sharing much else.
A few days later, on April 19, the world saw Luna for the first time on Teigen's Instagram. She shared a photo of herself holding her newborn outside, following it up with another photo of her mom holding Luna in the same location. It was clear that they were having some mother, daughter and grandmother bonding time. However, the first time that anyone saw Luna's face was actually on Legend's account. Four days after she was born, he shared a photo of his new daughter with no caption. (Hey, a picture's worth a thousand words... right?)
Though we're only hours out from the newest Stephens baby's arrival, it's safe to say that it might be a few days before Teigen and Legend decide to show him to the world, and that's completely okay. Though it's an exciting time, what matters most is that the new family feels totally respected and comfortable to share what they want, when they want. Anyone would want that kind of respect, too.