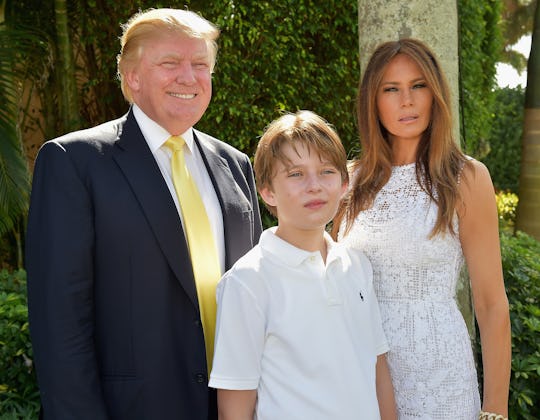 Gustavo Caballero/Getty Images Entertainment/Getty Images
Photos Of Donald & Barron Trump Depict A Normal-Seeming Father-Son Relationship
Donald Trump has been called a lot of things so far during this election cycle: a xenophobe, a misogynist, a Cheeto Jesus. Although the real estate tycoon has earned the ire of many, many members of the American electorate during his oftentimes tone-deaf presidential run, he has shown that he takes his title as "dad" seriously. Most of of Trump's five kids are adults now, but the youngest is just 10 years old. Photos of Donald and Barron Trump seem to depict a normal father-son relationship, despite the self-described billionaire's celebrity status and his quest to become the next commander-in-chief of the United States.
The now-70-year-old Trump and his first wife, Ivana Zelnícková, divorced in 1992. His three kids from that marriage, Donald Jr., Ivanka, and Eric, are all in their thirties now, and they have successful careers. The three of them founded the Trump Hotel Collection together, ABC News reported, and they have high-level positions within their father's company. Trump fathered 22-year-old Tiffany Trump with ex-wife Marla Maples, and she's widely considered to be his "mystery daughter." That's because he spends much less time in the limelight than Ivanka, for example, whom Trump once famously said he'd like to date.
By contrast, Trump's relationship with the young Barron is seemingly much less complicated.
Barron was born in 2006 to Trump's current wife, Melania. Because he's in elementary school, Barron doesn't spend a lot of time in the public eye, although ABC News reported he likes playing baseball, golf, and tennis.
And golf is widely regarded as the language of business, so Barron's dad is surely teaching him a thing or two on the course, likely one that the mogul himself owns:
In an interview with People magazine, Melania Trump confirmed that they do just that:
Barron loves to be one-on-one with Dad because normally he's almost always all the time with me. So I give them space when it's Daddy and Barron time. They go alone for dinner, one-on-one. They play golf together. He looks forward to that.
In the same 2015 interview, Trump said he "always prided [himself] on being a good father," adding that in parenting his youngest, he doesn't like to rely too heavily on nannies or other outside help. "If you have too much help, you don't get to know your children," he said.
Because he's taking the time to really get to know his youngest, Trump is surely familiar with Barron's similarities to The Donald himself, which Melania Trump described in an interview with Parenting magazine:
He is a very strong-minded, very special, smart boy. He is independent and opinionated and knows exactly what he wants. Sometimes I call him little Donald ... When he was 5 years old, he wanted to be like daddy: a businessman and golfer. He loves to build something and tear it down and build something else.
With his candidacy, what Trump may be tearing down is the Republican Party itself. His son, on the other hand, is just showing his creative and innovative side. There's a chance Barron get to keep doing that inside the White House if his dad wins the election, but either way, it looks like the two will still get to spend some quality time together.