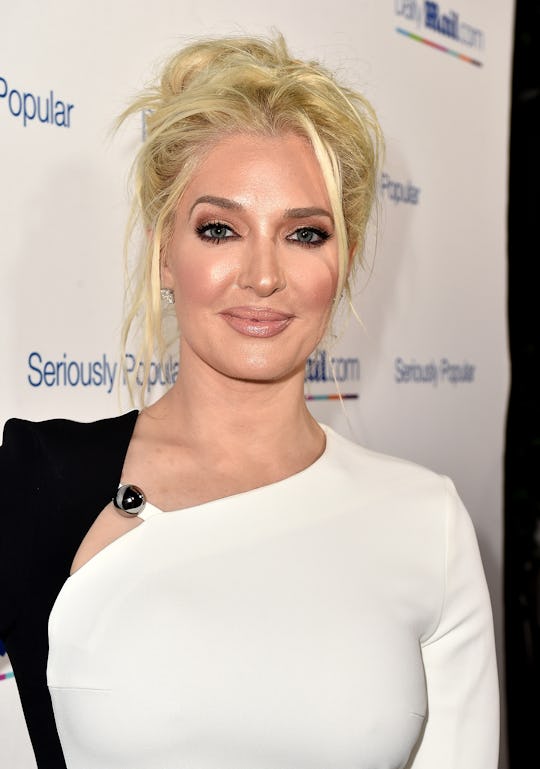 Alberto E. Rodriguez/Getty Images Entertainment/Getty Images
Erika Girardi's Son Has A Very Important Job
Privacy and reality television don't usually go together, but sometimes stars do manage to keep aspects of their life away from the cameras. It's no secret that The Real Housewives of Beverly Hills star Erika Girardi is a mom, but until this week, she's managed to keep her son's life separate from her own (which is no easy feat in the Real Housewives universe). And photos of Erika Girardi's son show that there might be a good reason he stays out of the spotlight: he's a police officer, which means he has some serious work to do. Girardi had her son, Tommy Zizzo, when she was just 21 years old with her ex-husband of the same name. The marriage didn't last long and Girardi raised her son, now 23 years old, pretty much all by herself.
In a recent interview with the The Daily Dish, she said that it's been her son's choice to stay away from the show, but that she also tries to keep his identity on the low because of the serious nature of his job. "It's a dangerous profession. I've known my son was going to be in law enforcement from the time he could walk and talk," she stated. "That's all he's ever wanted and that's kind of your role as a parent is to honor who your children really are."
Zizzo used to live in New Jersey, but moved out to Los Angeles fairly recently and graduated from the police academy there in 2014. When he's not keeping the L.A. County streets safe, Girardi said that she stays out of his private life and tries not to pick too much about who he dates or what he does, stating that "he has good judgment and he has a great head on his shoulders." The pop star also added, "I'm not going to run his life. He has to run his own, but I think he's doing a great job," which is about as nice a compliment a mom can give.
If Tommy has a good head on his shoulders, Erika should take some of the credit, for that. She said that raising him as a single mom was tough sometimes. "Single moms have it tough. It's hard. It's exhaustive, but at the same time it's very rewarding," she told The Daily Dish. "You know especially now that he's older and he's doing so well. I think that really makes the struggle worth it."
It doesn't seem likely that we'll get a glimpse of Tommy on the show anytime soon due to his career and private life — which is a total shame, because he sort of sounds like a catch, right?