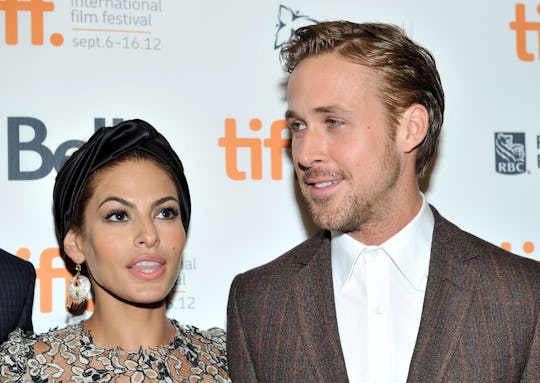 Sonia Recchia/Getty Images Entertainment/Getty Images
Photos Of Eva Mendes & Ryan Gosling's Kids Don't Exist, & The Reason Is Refreshing
You have to give Ryan Gosling and Eva Mendes credit — those two have some serious acting chops. After all, they recently managed to fool us all, welcoming their second baby on April 29 completely under wraps. Just think about how hard that would have been, between paparazzi and social media and fans desperately wanting to take selfies with you at every turn. Amazing. While the gorgeous lovebirds are now parents to two little girls, don't expect to see any cute pics of their kids any time soon. Photos of Eva Mendes and Ryan Gosling's kids don't exist, and it's for a good reason.
The actors and parents to little Esmerelda (18 months) and now, newborn baby Amada, are intensely private. They started dating after filming A Place Beyond The Pines together back in 2011 and have kept a low profile ever since, especially since the birth of their oldest daughter, Esmerelda. They managed to keep Esmerelda's birth a secret for several months as well, avoiding photographers throughout the majority of Mendes' pregnancy. According to People, an insider explained that Mendes; "just hasn't ever wanted anyone beyond her close friends and family knowing more than they had to. And Ryan is certainly private and always has been."
Considering the pair are rarely photographed together, have almost no social media presence (although Mendes does have an Instagram account to promote her clothing line, which is gorgeous), and have gone to great lengths to keep their pregnancies secret, it's no real surprise that their children have never been photographed. Sure, a lucky photographer might get Esmerelda's back every once in awhile, but the pair obviously feel it's important to keep their children out of the limelight. Fans have voiced their frustration at being denied glimpses of little Gosling-Mendes offspring.
I don't know though. I think it is sort of refreshing, isn't it? Because let's face it, those kids didn't choose to have parents who were famous actors. They deserve the opportunity to grow up without their faces splashed all over the internet... and let's also think about some of the backlash that can happen when your kids are in the public eye. With the anonymity of social media, haters have been given a megaphone. And while it would be nice to believe that no one would say a bad word about a child, we all know that just isn't true. Remember when little Shiloh Jolie-Pitt, daughter of Angeline Jolie and Brad Pitt, was massively criticized for her androgynous clothing choices as a little girl? Or how about when new dad Ryan Reynolds posted an Instagram pic of himself with his daughter in a baby carrier and was instantly admonished by critics telling him he was "doing it wrong."
Mendes and Gosling might be on to something, keeping the wolves at bay and protecting their kids from such public backlash. Their little girls will get to grow up privately, making choices and mistakes like all kids do without fear of how their slip ups might play out on a gossip website. I hope they will grow up knowing how hard their parents worked to shield them from the prying and judgmental world beyond their door. They are lucky little girls.