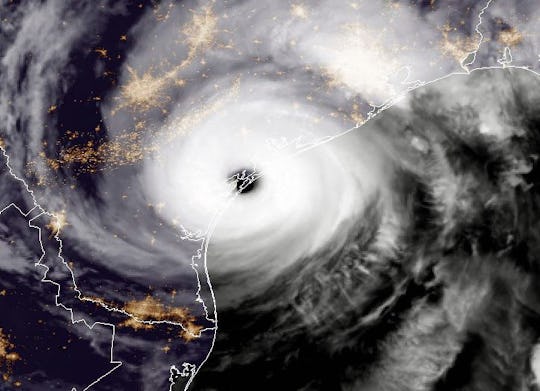 Handout/Getty Images News/Getty Images
These Photos Of Hurricane Harvey Paint A Grim Story Of…
It's been a long night for residents who live along the path of Hurricane Harvey. The category four hurricane made landfall on the gulf Coast of Texas on Friday night off Corpus Christie, and it's wreaking havoc along miles of the southern coast. Photos of Hurricane Harvey are alarming, and weather experts have said the storm is expected to stay in the area for at least four days. Texas Gov. Greg Abbott has declared a state of disaster in 30 counties, and The Washington Post reports that seven million people live in Hurricane Harvey's path. Roads have been closed, hundreds of thousands of customers have been left without power, and emergency officials report severe building damage.
One of the first cities to be hit by Hurricane Harvey was Rockport, a coastal town of 10,000 people. The storm landed in Rockport on Friday night, and by Saturday morning conditions had not improved enough to assess damages, as Rockport Mayor Charles J. Wax told The New York Times. Wax said that it was still too dangerous to send out emergency crews, but the city appeared to have suffered "widespread damage,"
Homes and businesses completely destroyed, lives disrupted. We do not know if there is any loss of life, but that may be because we haven't been able to assess.
Mayor Wax issued a mandatory evacuation order to protect residents from the storm, but an estimated 5,000 people stayed in the coastal town. It remains unknown whether or not there have been fatalities.
Despite the fact that Hurricane Harvey was downgraded to a category one storm on Saturday morning, residents are still living under the specter of flood and tornado warnings. According to a tweet from Federal Emergency Management Agency (FEMA) administrator Brock Long, the storm is expected to become a "deadly inland event."
Long also noted that this storm could potentially leave affected areas "uninhabitable for months," according to CNN, much like Hurricane Katrina did in New Orleans in 2005. A satellite image shared by MSNBC compared the two storms.
Photos of the storm have surfaced on social media and paint a bleak picture of the devastation.
ABC News Senior Meteorologist Max Golembo warned that Hurricane Harvey could be sticking around for some time because of the ideal weather conditions for a tropical storm.
Hurricanes don't like dry air, so they try to find this sweet spot between unfavorable conditions. They like warm water and no wind shear, so the Gulf of Mexico is the perfect spot. There is nothing to move the system along, and the two high pressures are holding [Harvey] in place. It's like two people holding someone in place, and until one breaks free, the system cannot detach to one side.
If the storm moves further inland, it would slow down. But if it loops back, as some weather experts believe it could, that's when things would get seriously dangerous. According to ABC News, Western Carolina University's Program for the Study of Developed Shorelines issued a statement on Friday warning of the possible implications.
If the storm stops on the coast, or just short, there could be heightened water level and waves on the oceanfront and over the bays, causing significant infrastructure damage and coastal erosion for a day or two. This is a worst-case scenario.