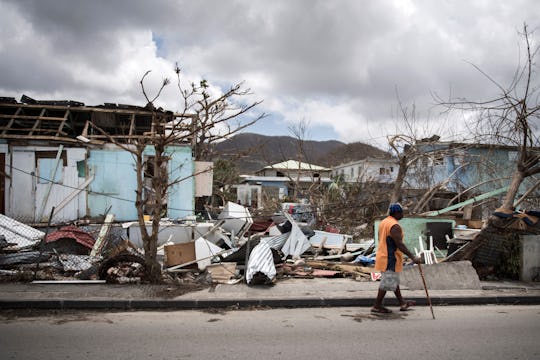 MARTIN BUREAU/AFP/Getty Images
Photos Of Hurricane Irma Making Landfall In Florida Show How Powerful This Storm Is
Hurricane Irma finally made its way to Florida over Sunday night and the storm's impact has not been pretty. And within the next few days, the storm will continue to approach the rest of the United States in its path. Once Irma's power and destruction has subsided, the damage will be assessed and people will be able to return back to their homes that they had to evacuate. For those who don't live in the path of the storm, these photos of Hurricane Irma making landfall in Florida show just how massive and powerful the storm was on Sunday.
Irma was reportedly reduced to a Category 3 storm, by Sunday afternoon, but that hasn't changed the storm's impact, according to weather reports. It first crashed into the Florida Keys on early Sunday morning, slamming the area with winds up to 130 mph, according to CNN. By Sunday afternoon, more than 1 million people had lost their power and in Miami, as CNN reported. Police officers could no longer respond to calls because of the storm, according to ABC News, the storm had left three people dead in the United States.
Miami and the Florida Keys are only the first of the cities projected to be hit by the storm, according to CNN. Irma will also have a major impact on Florida cities such as Tampa, Fort Meyers, and Naples located in Central Florida. And the many photos from the hurricane hitting the Florida Keys and Miami, shared on Twitter, show just what kind of devastation the hurricane has cause and could create for other cities within the next 24 hours.
Here's a sampling of what people have been sharing:
Perhaps the most harrowing images from the hurricane's landfall are of Tampa Bay, vacant of its water. This is because the hurricane winds pushed the water out of the harbor, but winds could push it back when the storm hits Tampa, according to Fox News.
On top of hurricane winds and rain, officials also warned residents about storm surge, or massive and powerful waves created by the hurricane, that can be seen in these images.
Florida Gov. Rick Scott warned residents ahead of the storm on Saturday, according to ABC News:
Do not think the storm is over when the wind slows down. You need to stay in a safe place. Be prepared, listen to local evacuation advisories.
But there is so much more that Irma has planned. Irma will hit the west side of Florida around 9 p.m. on Sunday, according to The New York Times, which could cause even more damage before losing power and heading up north through Georgia.
While these photos can help others understand the devastation Irma is causing in Florida right now, there are so many more photos to come from more towns and of the aftermath of the storm — and it's still far from over.
Check out Romper's new video series, Romper's Doula Diaries: