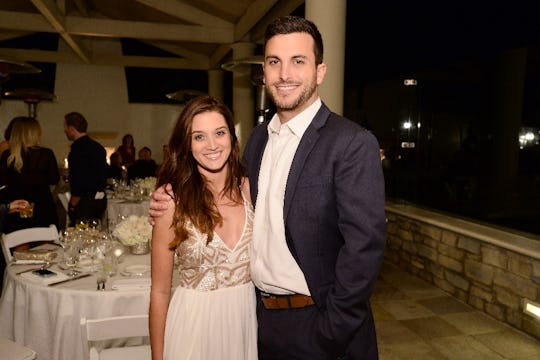 ABC/Matt Petit
Photos Of Jade & Tanner That Perfectly Prove Why They're Meant To Be
Bachelor in Paradise alums Jade Roper and Tanner Tolbert tied the knot on tonight's The Bachelor 20th Anniversary special, amidst friends, exes, and Chris Harrison who, naturally, officiated the ceremony. The couple met on Bachelor in Paradise's season two, after Tanner had a somewhat sleepy turn on Kaitlyn Bristowe's season of The Bachelorette, and Jade got booted from the hometown dates round of Chris Soules' season of The Bachelor after revealing her Playboy model past. But despite their rocky starts on the reality series, photos of Jade and Tanner now prove that it was all totally worth it.
Jade and Tanner's love blossomed in Mexico and the pair wound up getting engaged on the beach during Bachelor in Paradise's season finale. Tonight's wedding at the St. Regis Resort Monarch Beach in Dana Point, California seemed like an appropriate extension of their beach-born romance.
Between their engagement and wedding day, the pair didn't hold back their Instagram PDA game, proving they were more than just a glam, cocktail party-hopping, club appearance-cashing in reality TV couple. They show how goofy, tender, and affectionate they are together in their less than professionally styled moments.
Here are nine sweet and silly photos that prove why Jade and Tanner (and Jade's adorable pup Pippa) are meant to be for the long haul:
1. They Know How To Connect Long-Distance
Jade received this snap "during the long days apart" while the couple was dating long distance, proving they know how to stay connected, even when they're not together.
2. He Doesn't Only Love Her For Her Luscious Locks... But It Doesn't Hurt That He's A Fan
Writes Jade, "One of my favorite things about this man is his sense of humor. He always makes me laugh, brings out my goofy side and helps me not to take life so seriously."
3. He Kindly Took In Jade & Her Adorable Dog
...And she eventually made him take down that Christmas wreath.
4. He Lets Her Touch His Face With Her Feet
This is how Jade rolls on Man Crush Monday.
5. They Already Successfully Co-Parent A Fur Baby
You'll always be their baby, Pippa.
6. The Couple That Wine/Bachelor/Yoga Pantses Together... Stays Together
Doncha wish your boyfriend were hot like him?
7. It Would Be A Crime Not To Pass On These Genes
"He's okay to look at," writes Jade. Of course, if they decided kids weren't right for them, that would also be fine. But can you imagine the beautiful babies?
8. He Takes Romantic Bathtime Very Seriously
"Bubble baths are serious business," Jade points out.
9. He Lets Her Give Him Facials
"Spa time and The Voice tonight in our home!" She writes.
Seriously — this Bachelor couple's wedding may have been beautiful, but their marriage is going to be even more amazing. And that's saying something.