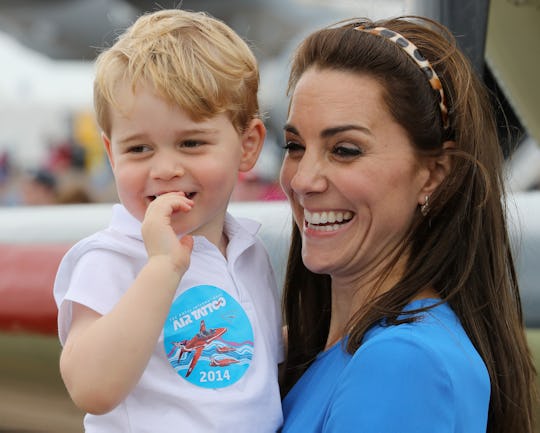 Chris Jackson/Getty Images Entertainment/Getty Images
Photos Of Kate Middleton As A Kid Prove Prince George Gets These Sweet Features From His Mom
Hearing what the royal family is up to today is a fun pastime. Scrolling through your newsfeed to see what Princess Charlotte's favorite hobbies are now or where newlyweds Prince Harry and Meghan Markle are off to next can easily take up you morning. But what's also fun is looking at the resemblance between royal parents and their kids. In fact, these photos of Kate Middleton as a kid versus Prince George prove that even though everyone thinks the young royal takes mostly after his dad, he takes after his mom in many ways as well.
As the oldest child of Prince William and Middleton, 4-year-old Prince George has grown up in the spotlight and many have often pointed to his uncanny resemblance to his dad. With his blonde hair, fair skin, and brown eyes, he certainly seems to take after his father. But looking back at what Prince George's mom looked like as a kid, it's actually pretty easy to see that he takes after both his parents.
Like many children, Middleton's hair wasn't always as dark as it is now, so perhaps her son's will also darken over time. Additionally, when Middleton was younger, she had the same wide-set, cheerful eyes that Prince George has now. But take a look for yourself, because once you do you'll see how the Middleton genes are just as strong as the royal ones.
Above is an adorable photo of a young Middleton playing outside many years ago. Though her fashion sense and hair styles have certainly changed over the years, it's clear that young Middleton and little Prince George, as seen in this photo below, have the same sweet, big smile, and playful eyes.
But that's not all. Oh no. Further proving the fact that Middleton, too, once rocked some lighter hair is the below photo, which features Middleton, on the left, with her family in Jerash, Jordan many years ago. Middleton's hair was pretty blonde, which could have easily been from the sun, but it looks like, at least at one point or another, she had some lighter hues in her locks — just like Prince George has donned.
Despite who her children look like most, it's obvious that the Duchess of Cambridge is a very caring and dedicated mother to her royal brood. If you're wondering why you haven't seen her as much as Prince William or Prince Harry recently, it's because, according to OK!, she has reportedly decided to extend her maternity leave with Prince Louis, whom she gave birth to back in April. And while that's not an option for every mother, her reported decision to do so is more than understandable.
After Middleton had Prince George, she returned to her royal duties a mere five weeks after giving birth, according to OK!. With Princess Charlotte, it wasn't much longer. After welcoming Princess Charlotte on May 2, 2015, Middleton went back to performing her royal duties about four months after giving birth. Now with her maternity leave with Prince Louis in place, as OK! reported, it seems that the mom of three is taking some much-needed time to bond with her newborn and all of her children.
As any parent knows, these years go by fast. It's only a matter of time before her children, Prince George included, grow up and lose their chubby cheeks and goofy grins (just two more similarities the mother shares with her son).
In the meantime, hopefully Prince William, Middleton, or even Queen Elizabeth will share some more tidbits about life with the royal children and, aside from looks, who they take after most.