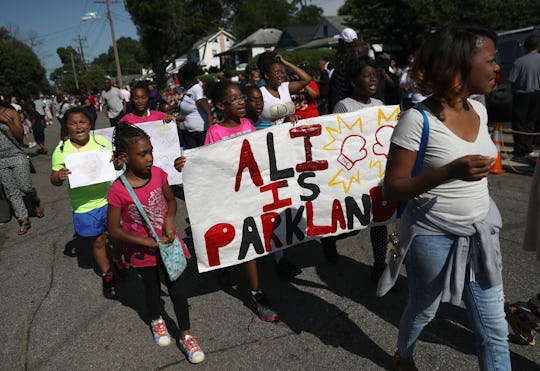 John Moore/Getty Images News/Getty Images
These Photos Of Kids Walking Out Of School Across The Country Will Make You So Emotional
It has only been one month since a lone gunman entered Marjory Stoneman Douglas High School in Parkland, Florida and killed 17 people. One month since that horrific shooting galvanized the youth of America to stand up, to make a difference, to use the power of their voices en masse to affect change. And, as of Wednesday, to walk out. These photos of kids on National School Walkout Day are proof that they're not willing to simply move on and forget what happened. And they're not going to let it happen again.
As CNN reports, National School Walkout Day acts as both a protest and a memorial. Students and teachers are expected to walkout at exactly 10 a.m. as a way to honor the lives lost as a result of the Parkland shooting, and also to push Congress and other lawmakers to enact stricter, more realistic gun laws. The protest, which many schools across the country acted out in complete silence, lasted for just 17 minutes. And just those 17 minutes were more powerful, more effective, than so many protests that have gone before. Because the students involved could not be accused of trying to use the walkout as a means of getting out of school, or slacking off for the day, or any of the other myriad excuses adults could have potentially attached to their motivation. They were invested in making change. Period.
Even the youngest children wanted to take part.
Social media lit up with photos of kids and the adults who support them walking out of their schools, or standing hand-in-hand with heads bowed in respectful silence.
At one elementary school, Guardian reporter Lois Beckett noted on Twitter that "at an elementary school in Virginia, an 11-year-old organizer had a press packet ready for me."
As terrible as it is to think that an 11-year-old should feel the need to organize a protest in favor of better gun laws, it's also somehow humbling. To think of a child being so passionate about change.
The walkout, which was organized by the Women's March Youth Empower, wasn't always met with support, unfortunately; one student in Michigan shared a tweet saying that his school wasn't allowed to participate in the walkout. Undaunted, the intrepid student and his friends chose to stage a sit-in instead.
Across the country, students insisted on being heard. Whether it was at a sit-in, or a mass walkout. Whether they were only 15 in number, or dozens, or hundreds. Whether they carried signs and shouted in the streets, or walked out in grave silence. They managed to be heard. Finally. A list of their needs was shared by CNN... here is what these students are marching for:
Ban assault weapons
Require universal background checks before gun sales
It wasn't just students involved in National School Walkout Day. Teachers, parents, and administrators across the country have supported this movement by actively engaging and, in some cases, even walking out of school themselves.
Unfortunately, not every adult is throwing their support behind National School Walkout Day. There have been reports that some school administrators have been warning students not to participate in the walkout, according to CNN, and concerns that there could be consequences for students like possible suspensions. Not that the threat of suspension appears to be stopping many students.
According to the Women's March Empower page, more than 2,500 schools planned to take part in the National School Walkout Day. While the organizers of the walkout have said it's safest if only teachers and students attend the 17-minute walkout, there are other ways to show your solidarity. You can wear orange or you can walk out of your own workplace for 17 minutes in the same spirit as these empowered students.
Whatever you might do, take your cue from the youth from National School Walkout Day and just do something to push for better gun laws.