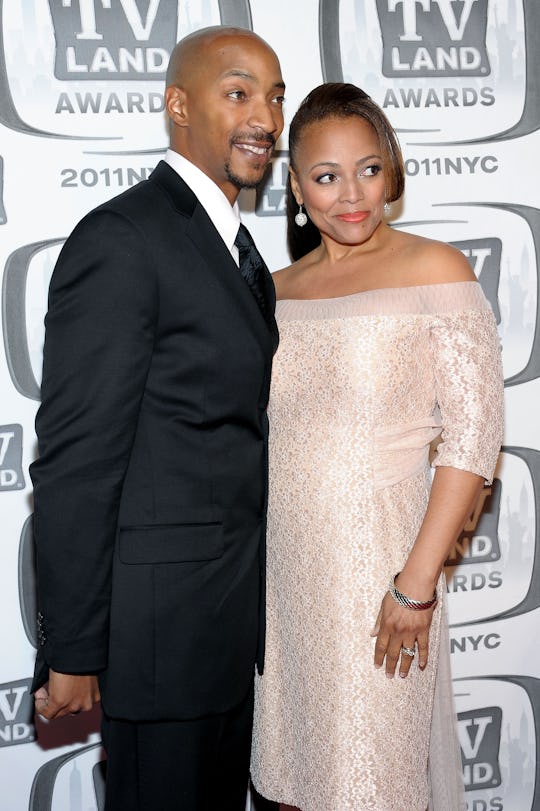 Michael Loccisano/Getty Images Entertainment/Getty Images
Photos Of Kim Fields & Husband Christopher Morgan Will Give You Relationship Goals
Despite scoring a 20 on her first night of Dancing with the Stars, Kim Fields stood out to audiences. She didn't get the highest score of the night, but her attitude would have never let you know that. Whether it was the fact that she was first up on Monday night or the fact that she just had a big smile on during the show, Kim Fields is one to watch on Dancing with the Stars. While Fields is gaining fans across America for her cha-cha, she's already got an amazing group of cheerleaders in the form of her family. Don't believe me? Just check out Kim Fields' husband, Christopher Morgan, and his amazing support of his wife while she's dancing for her life on the reality show.
Morgan, an actor, was stage-side on premiere night to show support of his wife and potential-Mirror-Ball-Trophy-winner, Kim Fields. The two have a very great relationship, which fans have seen on Fields' time on the most recent season of Real Housewives of Atlanta. Unfortunately, RHOA wasn't a particularly positive experience for either Fields' or her husband, as Fields often found herself being attacked by fellow cast members. In addition to that, Kenya Moore said on the show that there are rumors in the entertainment industry that Morgan is gay. Morgan addressed the rumors as completely "fabricated." Regardless, Fields' departure from the show after one season isn't exactly surprising.
Luckily, Fields and Morgan's relationship withstood Real Housewives of Atlanta.
Morgan was Fields' number one fan during the Dancing with the Stars premiere, posting multiple photos to social media cheering on Team KimSha. He also brought a cheering section with him.
It's pretty awesome to see that Morgan is there cheering on his wife during what is sure to be a nerve-wrecking time. Although she is no stranger to performing for many, I'm sure having the love and support from your team at home helps in performing.
The couple married in July 2007. The two have two kids together, Sebastian Alexander and Quincy Xavier, born in 2007 and 2013, respectively.
No matter what happens on Dancing with the Stars, it's good to know that Fields has a loving and supportive home that will always be rooting her on.