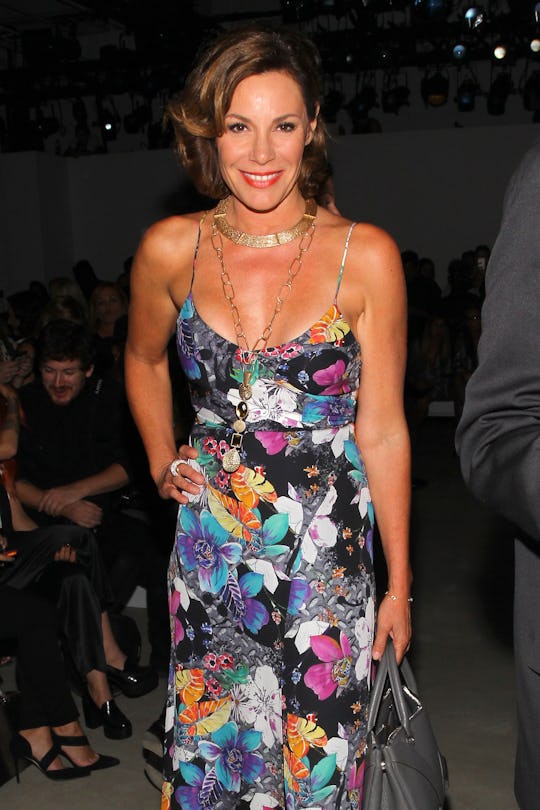 Astrid Stawiarz/Getty Images Entertainment/Getty Images
Photos Of Luann De Lesseps' Engagement Ring Show Her Fiancé Has Expensive Taste
Luann de Lesseps is freshly engaged and blissfully happy about it, as she says endlessly on The Real Housewives of New York City to the assembled women's clenched teeth emoji expressions. Though it's her second marriage, it's her fiancé Tom D'Agostino's first and Luann is planning to go all out. Her wedding is bound to be a celebration befitting a woman who goes by The Countess and that opulence begins with the engagement ring Tom used to propose. It's an eight-carat canary yellow diamond ring that could, potentially, be seen from space. But luckily this photo of Luann de Lesseps' engagement ring is a lot closer than that.
Luann is so excited that one would think she'd be flashing that ring everywhere, but because she revealed the ring exclusively to People it's a little bit harder to get a glimpse of – try keeping your eyes peeled as she gesticulates wildly during a tense dinner party or sleepover. The ring is definitely on the flashy side and there's no doubt it cost Luann's fiancé a sizable payout (reportedly over $250k), but since Tom is a millionaire, he could probably spare the cash. Luann's wedding is going to be just as flashy as that rock on her finger, and she's already spilling the details on what the ceremony is going to be like.
The proposal was romantic, too. Tom going to propose to Luann on Valentine's Day but just couldn't wait, so he popped the question while they were fireside at home. Then they jetted off to a ski vacation in Vail. The wedding won't be for a few more months still, but Luann has been gushing so much that almost all her plans are out. The wedding will be held in Palm Beach, where Tom (and now Luann) lives whenever he isn't in New York. "I plan to make it a weekend to remember, with a cocktail party on a private yacht kicking it off," Luann told People.
Luann wants a huge, blowout wedding on New Year's Eve, which is also Tom's birthday, making it the triple threat of celebrations. Of course, this will also call for three separate looks, guaranteeing the night will be far from boring. Luann has said that she plans to "go very traditional bride, and then party dress for Tom, and then glitz and glamour for New Year's Eve" with her wedding looks, adding, "Why wear one when you can wear three?"
Why indeed.