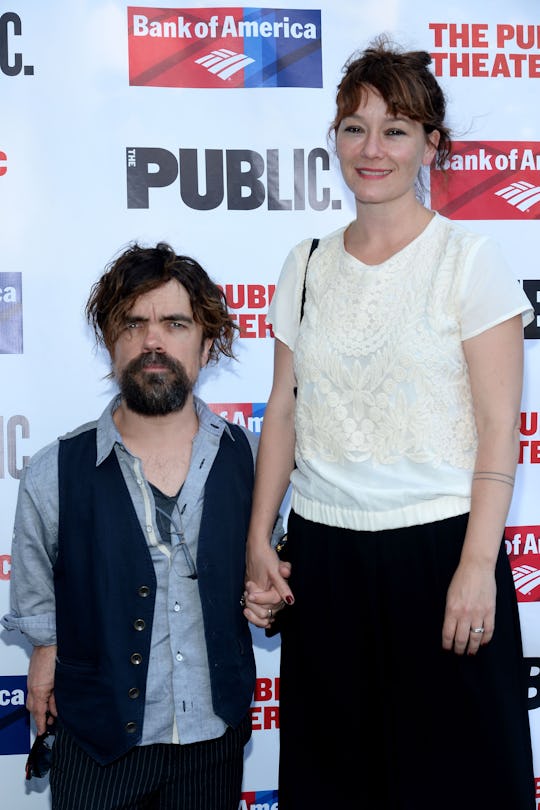 Ben Gabbe/Getty Images Entertainment/Getty Images
Pics Of Peter Dinklage & His Wife Are #CoupleGoals
Peter Dinklage and his wife, playwright and director Erica Schmidt, are reportedly expecting their second child. Schmidt and the Game of Thrones actor, who are already the parents of a five-year-old daughter, were out on the town recently at the premiere of Schmidt's off-Broadway play, The New Group's All The Fine Boys. The couple are not exactly celebrity hounds, voraciously updating their social media accounts or wearing big sunglasses at all the hot spots around town, so catching photos of Dinklage and Schmidt are sort of like finding the marshmallows in your morning bowl of Lucky Charms; you know they're there, but seeing them makes you smile all the same.
Dinklage and Schmidt have been married since 2005 and had their first daughter in 2011, the same year Dinklage won his first Emmy for playing crafty Tyrion Lannister on Game of Thrones. When Dinklage won the Emmy, he gave a brief but sweet shout-out to Schmidt, saying:
I love you, Erica. You're amazing.
It was about as effusive as you might expect coming from the hyper-private Dinklage. He and Schmidt, who has directed several off-Broadway plays as well as a version of Rent in Tokyo, have somehow managed to keep their daughter's name a secret for five years. People were so desperate to find out her name that some news outlets shared a false one, Zelig. Dinklage confirmed in 2015 during an interview with The Guardian that her name was not Zelig, though he still refused to share her actual name. Keeping that type of secret in Hollywood is no small feat in the age of information. But that seems par for the course for the laid back couple who clearly treasure their private lives.
The couple tend to shy away from the big ticket Hollywood events in favor of family time at home; although every once in a while there will be a sighting. And when you add Dinklage's on-screen brother Jamie Lannister (Nicolaj Coster Waldeau) from Game of Thrones in to the mix...
As we all get ready for Game of Thrones to return later this year, it's sort of weirdly comforting to see Peter Dinklage (whose character Tyrion is basically my favorite person ever, and that's saying something) living his life away from the spotlight. Sure, he and his wife show up for premieres, because that's part of their job. But in this era of constant overexposure, it's nice to change it up every once in awhile. To know that a person can be a celebrity and still have a private life.