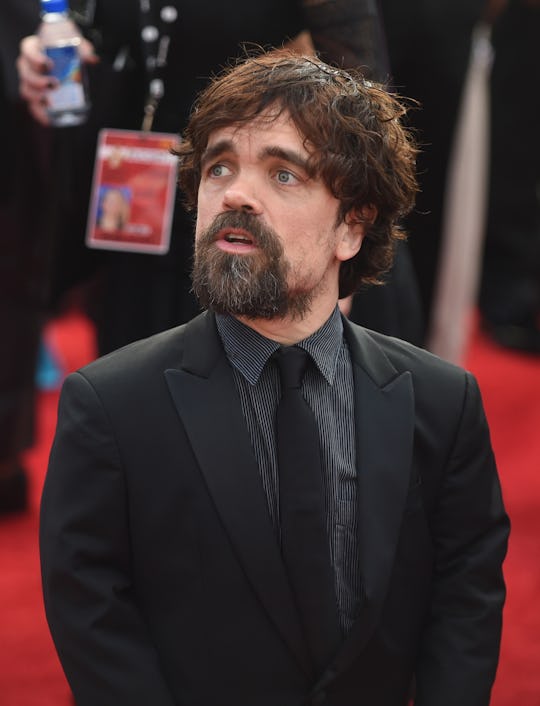 Emma McIntyre/Getty Images Entertainment/Getty Images
Why Photos Of Peter Dinklage's Daughter Are Scarce
He might be most recognizable in a dark fantasy world of death and destruction in Game of Thrones, but the few photos of Peter Dinklage with his daughter that exist, floating around the internet, prove that this dad has a super sweet spot for his little girl. Although the 47-year-old actor is a relatively private guy outside of the HBO set, he's been spotted in a few adorable moments that prove his parenting prowess. Photos of the sweet father-daughter duo may be few and far between, but that's certainly not a bad thing.
Sure, fans may want to know about Dinklage's life as a parent because his special connection with his 5-year-old daughter (whose name is not Zelig) is simply too great to keep all to himself. And this need for deets only gained traction after People confirmed on March 2 that Dinklage and his wife, theatre director Erica Schmidt, are now expecting their second child.
Despite this increased public interest in Dinklage's family life, how much information he decides to divulge about his little girl and baby no. 2, whenever the little one arrives, is his personal choice. And his reasoning behind preserving his family's privacy actually makes complete sense.
"I am so protective of everything that society has to offer," the soon-to-be dad of two told The Guardian back in 2015. "People see actors at red-carpet events and think that applies to my whole life, but it really doesn't. I live in New York and I have a little place in the woods where I tend my garden. I like privacy and all this [press] is not my thing. I'm not jetting off to another fancy place after this."
Press may not be his thing, but his family sure is. A quick search on social media is enough to produce a trove of sweet snaps taken by various members of the paparazzi and Dinklage's many devoted fans of the actor and his daughter playing in the park, walking down the sidewalk, and generally just doing what dads and their kids would normally do on any old weekend. But the doting father largely keeps his daughter out of the spotlight, at least in terms of official events.
While neither Dinklage nor Schmidt's reps have released any statement regarding Schmidt's pregnancy, Schmidt was spotted recently showing off a bump on the red carpet of the New Group's premiere of All the Fine Boys, according to People. The magazine reported that the cast of the play, which the expectant mama wrote and directed, had fun placing their hands on her bump.
So sure, photos and home videos from the very private parents don't really exist for fans to see, despite the couple's busy life in the world of showbiz. And really, that's not a bad thing at all.