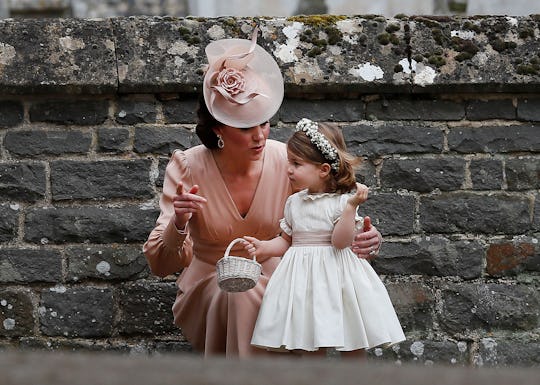 WPA Pool/Getty Images Entertainment/Getty Images
These Photos Of Prince George & Princess Charlotte At Pippa's Wedding Are Royally Adorable
Prince George and Princess Charlotte just welcomed a little baby brother. For anyone out there who ever had a baby sibling, you probably know the drill. There's always that fear you'll somehow be forgotten, or less important or whatever. Not so with these two adorable little cherubs. First of all, they're actual royalty so getting enough attention isn't really a serious problem for them. Second, they're probably going to be in a royal wedding soon. And if these photos of Prince George and Princess Charlotte at Pippa Middleton's wedding are any indication, they're probably going to steal the show. Sorry, Prince Harry and Meghan Markle, but this is the way it goes when you have cute kids in your family.
Prince Harry will be marrying the American actress and philanthropist on May 19 at St. George's Chapel in Windsor Castle. Some details of the wedding have been shared, like the florist who will be arranging the flowers and the baker who will be creating the wedding cake. Kensington Palace has yet to confirm other vital details, like whether Prince William will be his younger brother's best man (as Prince Harry was for him when he married Kate Middleton in 2011) or whether or not Prince George and Princess Charlotte will be in the wedding. And yet, royal watchers are making some assumptions, based on tradition and history, as The Cut reported, that Prince George will be a page boy and Princess Charlotte will be a flower girl, much like they were at Pippa's wedding last May.
And now, let's all gush over how adorable the brother-sister duo truly were.
Kate Middleton did not have an official role at her sister Pippa's wedding, but seemed to take over the role of child wrangler quite well. And most of her wrangling seemed to be focused on little Charlotte, who looked adorable in a little white dress and a floral crown, but didn't appear to really get into the whole wedding etiquette thing. And this is why the world loves her so.
Kate Middleton, on the other hand, spent much of her time doing the crouch and scold with her little girl. In heels, no less.
To be fair, the young princess was just 2 years old at the time, and wearing little girl stockings, which can't be super comfortable. And to Princess Charlotte's credit, when her aunt Pippa began her walk down the aisle in her gorgeous white lace wedding dress to marry James Matthews, she pulled it together. This picture of her with her mom as they silently squealed with joy at the sight of Pippa is utterly priceless.
As for young Prince George; it's not easy to pull off wearing short golden pantaloons with knee-high white stockings. And yet he totally did pull it off with aplomb.
I think it's all about his sweet face, to be honest. I might not know Prince George, but he strikes me as one of those nice little boys who just wants to do the right thing. And if his parents could contact me to confirm my suspicions, that would be grand.
When Markle marries Prince Harry, I hope Prince George and Princess Charlotte have an official role of some sort. Especially considering how close their parents are to the groom and presumably the bride as well. I'm happy to report that palace sources have said Kate Middleton will not be expected to have an official role at the wedding on account of having just welcomed a new baby, and here's hoping someone else can take over the unofficial role of child wrangler for her (cough, cough Prince William).
At the end of the day, all royal fans just really want to see tiny royal children dressed up in fancy wedding clothes. And I don't feel this is too much to ask, OK?
Check out Romper's new video series, Bearing The Motherload, where disagreeing parents from different sides of an issue sit down with a mediator and talk about how to support (and not judge) each other's parenting perspectives. New episodes air Mondays on Facebook.