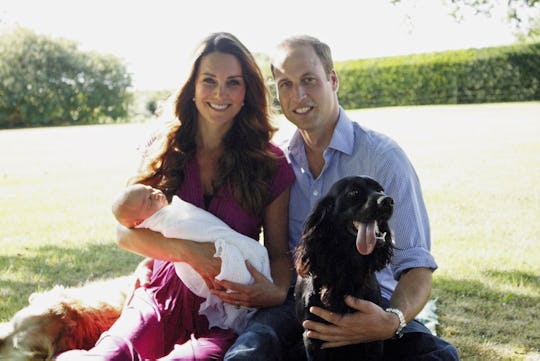 Handout/Getty Images Entertainment/Getty Images
It's National Dog Day, So Enjoy These Adorable Photos Of The Royal Kids With Their Family Pup
Considering Queen Elizabeth II's well-documented affinity for Corgis, it's no surprise that so many of her royal descendants have dogs as well. In honor of National Dog Day, I compiled all the photos of the queen's great grandchildren Prince George and Princess Charlotte with their family dog. And based on the photos, it seems like being a dog person is hereditary in the royal family.
Prince William and Catherine, Duke and Duchess of Cambridge, have been pet-parents much longer than they have been parents to Prince George, Prince Charlotte, and Prince Louis. While Prince William and Duchess Kate undoubtedly received numerous fantastic gifts for their royal wedding, Kate's younger brother James Middleton's wedding present to the royal couple blew the competition out of the water. James gifted them a black-haired English Cocker Spaniel named Lupo for their April 2011 royal wedding, as Hello! Magazine reported.
Lupo is still very much a part of the family — and he even gets the royal treatment. In June 2013, just a month before Middleton gave birth to Prince George, the couple and Lupo were spotted hitching a helicopter ride back to London from a friend, the Daily Mail reported at the time. A couple taking photos of the helicopter didn't notice until a few days later that Prince William, Duchess Kate, and Lupo were the subjects of their photographs. "Lupo was very well behaved. Kate let him down on to the grass and he stayed close, although you could see he was excited," the couple told the Daily Mail.
After welcoming Prince George in July 2013, Prince Will and Middleton wasted no time in getting the newest heir and Lupo acquainted. In August 2013, the Duke and Duchess released an official family portrait featuring themselves, the pup, and baby George. Kate's father Michael Middleton captured the photo outside of Middleton's family home in Bucklebury, England, as People reported at the time. And in the corner of the photo, the Middleton family's golden retriever, Tilly, is resting, almost undetected. (Seriously, I've seen this picture so many times and never noticed Tilly until now.)
In March 2014, the Duke and Duchess released a new family photo, featuring an 8-month-old Prince George and Lupo. The foursome perched at their Kensington Palace windowsill as George sweetly gazed at Lupo.
Circa Prince George's 3rd birthday, in 2016, Kensington Palace released a new picture of Prince George and Lupo, the Evening Standard reported. In the shot, Prince George and Lupo are seated on a blanket, and Prince George is feeding the dog some ice cream. The adorable photo sure seems to prove that he and the family's pup have a special bond — either that, or Lupo just really wanted ice cream.
In May 2019, Prince William did an interview about mental health with British GQ. Alongside the article, GQ published a gorgeous black-and-white photo of Duchess Kate, Prince William, Prince George, Prince Charlotte, and Lupo playing in the grass outside Kensington Palace. From the smiles on everyone's faces (well, everyone but George's, as his back is to the camera), it's clear that the family and Lupo always have a great time together.
And Lupo isn't the only animal who lives with the family of five. In May 2016, Middleton announced that she and Prince William bought a new pet for Prince George and Princess Charlotte: a hamster named Marvin, according to Hello! Magazine. The duchess revealed the news at at the grand opening of a new Magic Garden, which is a magical playground for children, according to its website. Hello! Magazine spoke with a 9-year-old named Darcey who attended the opening, and she told the outlet: "[Kate] said she had a hamster, and Charlotte really likes it because the whiskers always tickle her face."
Here's hoping Marvin the hamster — not to mention, Prince Louis — make it into the next royal family portrait!