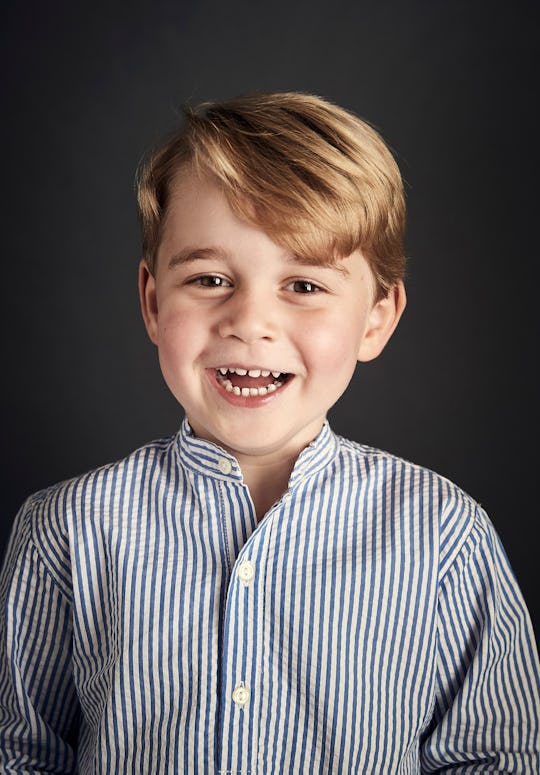 Handout/Getty Images Entertainment/Getty Images
Pics Of Prince George That Will Make Your Ovaries Hurt
There are few tiny humans who make me reconsider my decision to stop birthing babies. Prince George is one of them. Not just because he wears short pantaloons better than anyone else in the known universe, but because he is basically the happiest person ever. I mean, even when he's having a little tantrum you can totally tell his heart's just not in it. To celebrate his birthday on Saturday, let's all scroll through some of the sweetest photos of Prince George and marvel at the wonder of the most perfect future king.
The only son of Prince William and Princess Kate, the Duke and Duchess of Cambridge (not to mention older brother of the equal adorable Princess Charlotte) turned four on Saturday. While much of the world might remain divided on the issues of the day, we do manage to come together in perfect harmony in our adoration of Prince George. I mean, come on... he wears shorts and Oxford shirts and knee socks all the time. Plus, despite the fact the he has spent his entire life in front of camera, frequently thrust into throngs of adoring fans, he always seems like a pretty happy guy. Possible because he gets to do amazing things on the regular.
Like checking out helicopters in Hamburg, Germany during a recent visit with his parents.
Although it seems the excitement got to be a bit too much for him and he had a tiny royal meltdown... which also managed to be pretty adorable.
Then there was that time Prince George met President Obama. In his bathrobe, because that's how you get to roll when you're a prince. And can we all just take a moment for his tiny bathrobe/button-down pajamas ensemble? Can we do that please?
Prince George might be slotted to become the king (he's third in line to succeed his great grandmother, Queen Elizabeth, after his grandfather, Prince Charles, and his dad), but he's not above playing a supporting role. As he did at his aunt Pippa Middleton's wedding. All hail his short pantaloons and knee socks.
Speaking of shot pantaloons... it's actually a long-standing royal tradition for young princes to wear shorts. Both Prince William and his brother, Prince Harry, wore shorts as little boys.
While they were adorable, obviously, nobody knows how to rock shorts and knee socks quite like Prince George.
Even as a baby, Prince George had a gift for stealing the show from his adoring parents.
There's something oddly comforting about the world's universal love of Prince George. When we're all fighting about things like health care, world peace, and whether or not pineapple is an appropriate pizza topping, it's good to have one thing we can all agree on. Prince George. He's the great equalizer.