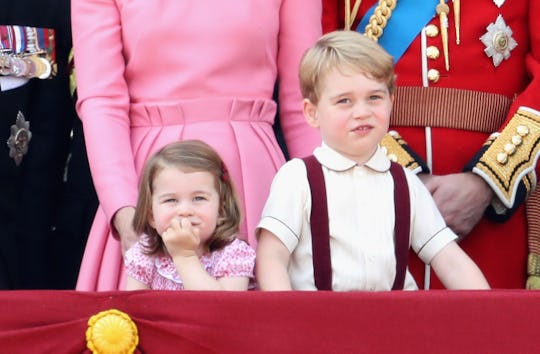 Chris Jackson/Getty Images Entertainment/Getty Images
Photos Of Prince George Vs. Princess Charlotte Show Just How Different Their Personalities Are
I don't consider myself much of a royal-watcher, per se, but I'm a devoted fan of the two smallest members of the royal family. I don't know if it's Prince George's trendsetting short pants, or that gleam in Princess Charlotte's eye that hints at a mischievous side I can seriously relate to; but whatever it is, I'm a super fan. And looking through photos of Prince George vs. Princess Charlotte, as I am wont to do during my down time, I could't help noticing a few trends.
The Duke and Duchess of Cambridge, or Prince William and Kate Middleton as I assume they are known to their closest friends, are just about ready to welcome their third child. We don't know yet if it will be a boy or a girl, but I do know one thing: either way that baby is getting the cutest hand-me-downs of any baby anywhere. I mean, 2-year-old Charlotte's dresses? Or 4-year-old George's sweaters? Lucky baby. Plus there's that whole being born into the royal family thing... but I'm really just here for the outfits.
Beyond their fairly incredible wardrobe, Prince William and Princess Charlotte manage to charm the world, each in their own way. And far be it from me to pigeon hole or stereotype small children, but can we all just agree that Charlotte might be a bit of a hellion and George is the quiet one? Can we just agree on that right now, please?
Prince George In A Robe With Obama
Prince George might someday be remembered as the King of England, as he is third in line for the crown right now, but a small part of us will always remember that he once greeted the former President of the United States, Barack Obama, at Kensington Palace in a monogrammed robe. It was one of the most delightful moments of the 21st century.
Princess Charlotte Glaring Suspiciously At The World
Queen Elizabeth II herself once told a schoolgirl that Princess Charlotte bosses her brother around, and honestly? I totally believe it. This little girl has Blue Steel down pat, and I wouldn't mess with her. Although it would be unfair to assume she's a handful all of the time, especially when you see the picture her mom snapped of her on her first day of nursery school.
Royals & Their Helicopters
During a week long trip through Poland and Germany, the royal children got to tour through a helicopter. Prince George was understandably very excited, considering planes and helicopters are two of his favorite things. He started off a little fussy, but perked up once he realized what they were doing at an airfield in Poland.
Princess Charlotte, however, was significantly less excited. And Middleton was basically every mom ever, trying to deal with a tiny tantrum.
If only there had been dancing... one of Princess Charlotte's favorite pastimes is apparently dancing, according to her dad Prince William, as People reported. I bet that would have mollified her.
Walking Down The Aisle
As the world prepares for the next big royal wedding in May between Prince Harry and American actress Meghan Markle, it should be exciting to see what sort of roles the young royals will play. They were ring bearer and flower girl at their aunt Pippa Middleton's wedding, and are expected to play similar roles at Prince Harry and Markle's wedding. What should we expect? Well, if history tells us anything... George will quietly go along with the plans. And Charlotte might be a bit of a wild card.
To be fair here, Princess Charlotte is only 2 and spends an awful lot of time getting her picture taken.
Still, I choose to embrace this narrative. Prince George is the stoic child, Princess Charlotte is a bit of an adorable rebel. What will it be like when the new baby arrives? Stay tuned.
Check out Romper's new video series, Bearing The Motherload, where disagreeing parents from different sides of an issue sit down with a mediator and talk about how to support (and not judge) each other's parenting perspectives. New episodes air Mondays on Facebook.