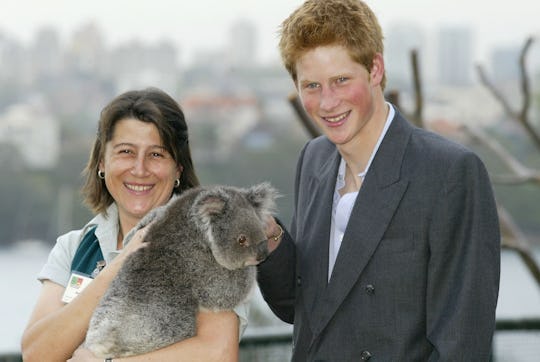 Daniel Berehulak/Getty Images Entertainment/Getty Images
These Photos Of Prince Harry Before Meghan Markle Prove He's Done It All
I have been watching Prince Harry grow up my whole life. I remember when he was a baby, if that's not dating me too terribly, and he wore those little outfits that sort of looked like dresses. But he pulled it off. I remember seeing him as a 12-year-old who lost his mother, looking nervous and sad and trying not to show too much emotion. A scroll through photos of Prince Harry before meeting Meghan Markle is a real scroll through memory lane, of course, but it's also a pretty impressive path.
These photos tell the story of a young prince who wasn't afraid to figure his own s**t out. He's had a pretty exciting life, definitely more exciting than most. But Prince Harry, the youngest son of Prince Charles and the late Princess Diana (who died in 1997 in a car crash in Paris), doesn't ever seem to shy away from trying something new. From carving out his own story. Whether he eschewed palace life for years in favor of a serious military career that took him to Afghanistan, spent time dating and partying like he wasn't a member of the British monarchy, or eventually married a divorced, independent American actress, Prince Harry has done things his own way.
And more power to him.
Prince Harry, The Early Years
Buckingham Palace former royal chef Darren McGrady told Business Insider he remembers Prince Harry as the "naughty one with the big smile."
McGrady also told the news outlet that the younger brother of Prince William was "lots of fun," and that the two young princes were big fans of foods like barbequed ribs, potato skins, and pizza. In fact, their mother Princess Diana reportedly used to take them out to treat them to fast food, something both Harry and William remember well.
Teenage Angst
When Prince Harry lost his mother in 1997, by his own account he was left bereft. Just 12 years old and trying to figure out how to deal with a future without his wonderful "naughty" mother, as he called her in a 2017 HBO documentary. His father Prince Charles took the two boys off to Africa to heal, and to this day Prince Harry has a strong love for the continent. He did his best to heal, and his close relationship with his brother undoubtedly helped.
Wild Child
Prince Harry enjoyed a pretty fruitful bachelor life in the early 2000s, drinking and partying with the best of them. While I'm glad his wife, the Duchess of Sussex, has helped him move on to a cleaner lifestyle... a part of me will always have a soft spot for Prince Harry the partier.
In The Military
It's pretty customary for male members of the royal family to joint he military; Prince William flew search and rescue missions during his time, and Prince Charles served in the Royal Air Force and Royal Navy. In Prince Harry's case, however, he took it to the next level. He completed several combart tours in Afghanistan in 2013, with his final one ending in 2013.
Harry The Humanitarian
After serving in the military, Prince Harry found his true calling, and a way to make living life as a royal work for him; much like his mother before him he is a truly remarkable humanitarian. Among other things, he has started the Invictus Games (Olympic style games for wounded and recovering troops from around the world), worked with his brother Prince William and sister-in-law Kate Middleton to raise mental health awareness, and traveled around the globe trying to make a difference. In short, he has figured out his life's work.
The Baby Whisperer
No word yet on when Prince Harry and Meghan Markle might have children but rest assured; when they do, he'll be up to the challenge. Now enjoy a bunch of pictures of Prince Harry being cute with children.
Everyone's Favorite Third Wheel
As much as I love the relationship between Prince Harry and Meghan Markle, I think it's important to mourn the loss of Prince Harry, professional third wheel.
Prince Harry might only be 33 years old, but he's already lived a huge life. Heartbroken son, wild child, notorious bachelor, war hero, humanitarian... no wonder he's ready to settle into married life. I'm exhausted just reading about it.