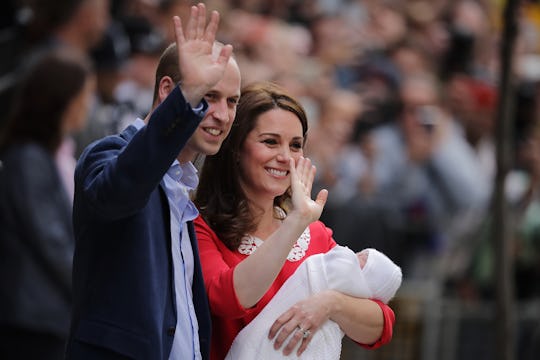 Dan Kitwood/Getty Images Entertainment/Getty Images
Photos Of Prince Louis Compared To Photos Of Charlotte & George Will Give You Royal Baby Fever
Prince Louis joined the royal family on April 23, and already, he's following in the footsteps of his older siblings. Though many details of royal births remain consistent – delivery in St. Mary's, the famous Lindo Wing reveal, and so on – there are some things about Louis' birth that differ from his siblings. Regardless, these photos of Prince Louis compared to photos of Charlotte and George will remind you just how similar they looked as babies, and it will seriously warm your heart.
The first images made available to the public of the royal babies are typically taken just hours after the Duchess has given birth. As per protocol, she and Prince William wrap their newborn in the same white blanket, and step outside the Lindo Wing of St. Mary's Hospital to show the newest heir to the world for the first time. (This often happens even before their names are revealed!) However, there were a few minor differences with Louis' birth. Brit.Co reported that Louis' birth certificate was the first to be typed, while the other royal babies were handwritten. The Independent also reported that despite not succeeding his sister Charlotte in the line to the throne thanks to the 2013 Succession of the Crown Act, his and George's children will receive royal titles, while Charlotte's will not. (Royal titles are only inherited through men, apparently.)
Despite those small differences, so much about their births has been the same. Beginning with their debut outfits, which were all white! Here's Prince George's debut back in 2013 vs. Prince's Louis' debut in 2018:
Good Housekeeping reported that the blanket is actually a knit from G.H.Hurt & Son, a favorite retailer of the royal family (and apparently, George and Louis actually wore the same one, while Charlotte had a different version). Marie Claire reported that Louis is already wearing hand-me-downs, so in other words, they're just like us.
Here is Princess Charlotte wearing her G.H.Hurt & Son ensemble:
As for the minor differences in their welcoming to the world, here's Charlotte's birth certificate in comparison to Louis'. Though a lot is the same (and their parents are still listed as the Prince and Princess of the United Kingdom, which sounds more like a fairytale than a legal document, TBH, technology has certainly evolved, even for the simplest of things.
Though the royal babies may be wearing the same (if not nearly indiscernibly similar) clothing, they do have their own unique features that set each of them apart. In fact, the first close up photos of Prince Louis in comparison to his siblings show that he's definitely his own person... and the world will anxiously wait until William and Kate release photos of him growing up.
For comparison, here's Prince George as a baby:
As is tradition, Louis will also wear the same Christening outfit that George and Charlotte did. The gown is a replica of the dress Queen Victoria had commissioned for her daughter in 1841. Prior to it being deemed too fragile to continue to use, every royal was baptized in it, which amounts to 62 of Louis' ancestors.
Here's a regal shot of Kate and Charlotte after her baptism:
Though it remains to be seen whether William and Kate will have a fourth child (People reported that as they have broken royal tradition by not stopping after 2 kids, there's a possibility that they will emulate the queen and go for four), the world may one day see Louis joining his siblings George and Charlotte to enter St. Mary's to meet his younger brother or sister. Here are a few of those sweet shots, including Charlotte's iconic wave:
Regardless of what happens next, there are many, many more adorable photos of Louis destined for the world to see (and gush over) in the foreseeable future. Though he won't be present at his Uncle Harry and Meghan Markle's upcoming nuptials, there's no shortage of opportunities to see new photos of the royal babes.
Check out Romper's new video series, Bearing The Motherload, where disagreeing parents from different sides of an issue sit down with a mediator and talk about how to support (and not judge) each other's parenting perspectives. New episodes air Mondays on Facebook.