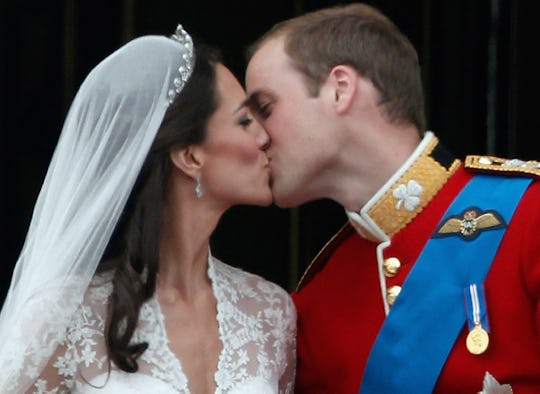 Christopher Furlong/Getty Images Entertainment/Getty Images
Photos Of Prince William & Kate Middleton's Wedding To Get You Excited For The Next One
There's an exciting wedding around the corner, and royal watchers couldn't be more excited. Especially those of us who have watched a few royal weddings in our day and know a little something about the pomp and circumstance that goes into the celebration. This next wedding in particular has a whole lot to live up to; after all, the last splashy royal wedding in the United Kingdom was that of a future king and queen. And it was a pretty spectacular show, as these photos of Prince William and Kate Middleton's wedding can attest to.
Prince William married his longtime girlfriend, Kate Middleton, on April 29, 2011. The future king met his bride at school in 2001, where they were both living in the same residence, St. Salvatore's Hall at the University of St. Andrews, according to Biography.com. After dating for nearly a decade, the couple announced their engagement in November 2010 and got married just five months later. The wedding took place at Westminster Abbey, which you might have already known since the big event was watched by 36 million people across the world, according to The Sun. Beyond the couple's obvious affection for each other, the photos of Prince William and Kate Middleton's wedding are a testament to how quickly the royal family can pull off a polished wedding. If the monarchy ever falls, they could really go into wedding planning.
Kate's Dress
Prince William looked dashing in his red Irish Guards Mounted Officer's uniform, but let's face it; Kate Middleton stole the show and changed the future of wedding dress trends. She wore a floor-length custom-designed white lace dress designed by Alexander McQueen creative director Sarah Bunton, according to Harper's Bazaar. It featured sheer lace long sleeves over a heart-shaped bodice and a full skirt. It's estimated the dress cost anywhere between $200,000 to $400,000.
When the ever-stylish American actress/philanthropist Meghan Markle marries Prince William's younger brother Prince Harry on May 19, I think we can go ahead and expect another smashing dress.
Pippa & Harry
It's hard to believe there was a time when the world seemed to pin a lot of royal hopes and dreams on Kate Middleton's maid-of-honor, her sister Pippa Middleton possibly dating Prince William's best man, Prince Harry. I suppose it had something to do with Pippa making such a spectacular splash at the wedding, and of course everyone loves Prince Harry. Both have chosen different paths; Pippa married financier James Matthews in May 2017 and Prince Harry is, of course, marrying Meghan Markle on May 19. Still, it was a fun little fantasy for awhile.
Pomp & Circumstance
The Duke and Duchess of Cambridge were driven from Westminster Abbey to Buckingham Palace in a horse-drawn carriage lined in scarlet, surrounded by military personnel in full regalia. They also had a full complement of royal family members in attendance, including Queen Elizabeth and Prince Charles. And let's not forget Kate Middleton's own parents, Carole and Michael Middleton.
Then there is that other royal favorite, Prince Harry, who will be at his own wedding at St. George's Chapel at Windsor Castle in less than a month's time. Hopefully this time around he won't have to ride in the kid's carriage.
The Big Kiss
Kate Middleton and Prince William are well known for avoiding public displays of affection while acting in their professional roles in the royal family. But they decided to break protocol on their wedding day to enjoy a smooch, and everyone loved it.
It's been almost seven years since the couple shared that sweet kiss on the balcony at Buckingham Palace. Since then, they've welcomed three children; 4-year-old Prince George, 2-year-old Princess Charlotte, and a new baby boy born on April 23.
Now we're on to the next royal couple. And honestly, if their wedding is half as lovely as this one, we're in for a treat.
Check out Romper's new video series, Bearing The Motherload, where disagreeing parents from different sides of an issue sit down with a mediator and talk about how to support (and not judge) each other's parenting perspectives. New episodes air Mondays on Facebook.