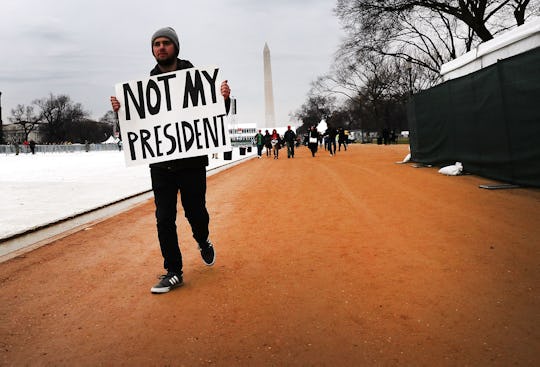 Spencer Platt/Getty Images News/Getty Images
The Powerful Photos Of Inauguration Protestors
In the crowd that's formed to witness the 45th presidential inauguration, there are a few people that have stood out: those in bright pink toques, along with those on the sidelines holding protest signs. Photos of protestors at the inauguration show that public backlash to President-elect Donald Trump hasn't exactly lessened on Inauguration Day. In fact, protestors have been showing up in droves in Washington in order to express their dissent.
According to CNN, groups of protestors tried to block inauguration checkpoints — a move that was reportedly successful at several stops, although the Secret Service tweeted that all inauguration checkpoints were open. According to other reports, however, protestors caused bottlenecks and slowed down supporters' entry to the inauguration.
Groups like DisruptJ20 (which was named after the Jan. 20 inauguration date), Black Lives Matter, and the ANSWER Coalition made themselves seen on the streets near the Capitol. According to ABC, signs held by protestors were covered in phrases like, ""Resist Trump Climate Justice Now," ''Let Freedom Ring," and ''Free Palestine."
However, not all protests so far have been peaceful. A separate ABC article noted that authorities used chemical spray on protestors on Thursday night, when one crowd spiraled out of control. A few photos and videos on Twitter on Friday also showed violence breaking out in Washington, with some people tipping garbage cans and breaking store windows.
According to The Independent, masked protestors carrying anarchist flags smashed the windows of multiple stores, including a McDonald's, a Starbucks, and a Bank of America. Some protestors carried bats or poles, and police reportedly responded to bouts of violence with pepper spray, stun guns, tear gas, and water cannons.
It seemed like most protestors were peaceful, however, demonstrating with signs that read "Putin's Puppet" or "Kremlin employee of the month" and sitting with chains looped around their necks.
"It's important from Day 1 of Trump's administration that we make clear that we are going to be disrupting his agenda," protestor Ramah Kudaimi, 30, told The New York Times. "When communities are under attack, we are going to fight back."
Now that the inauguration is over, protesting is actually set to scale up, rather than die down. The Women's March on Washington is set to take place on Saturday, with thousands of attendees joining the protest. Sister events have sprung up around the world, with people in cities both in the United States and abroad showing their support. The coming days should reveal just how Trump will run the country — and just how strongly the country will respond to his actions.