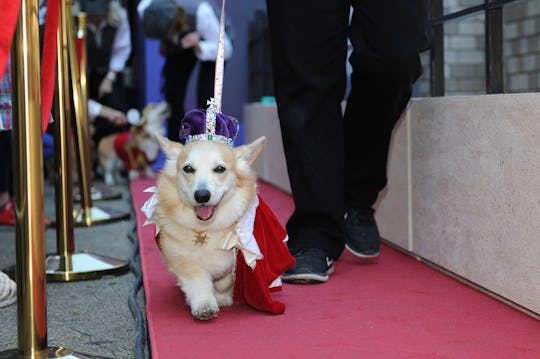 Craig Barritt/Getty Images Entertainment/Getty Images
Photos Of Queen Elizabeth II's Corgis Show Off Their Long, Adorable History
While fans of the royals are arguably hyper-focused on the new royal baby and the upcoming royal wedding at the moment, Queen Elizabeth II's corgis are always in the back of a true royal fan's mind. The Queen has had a connection with the dog breed since she was a child, and as it turns out, her relationship with the animal is much deeper than it may seem.
The Queen was first introduced to corgis way back in 1933. When she was just 7 years old, her parents welcomed Dookie, the royal family's first corgi, as reported by Vanity Fair. Her parents were King George VI (formerly known as Albert) and the Queen Mother (formerly known as Queen Elizabeth). On Queen Elizabeth II's 18th birthday, in 1944, she was gifted her very own corgi, Susan. (Is it just me, or does Susan seem like a wild name for a dog?) Queen Elizabeth II was evidently such a fan of Susie (I can call her Susie, right?) that she brought her along on her honeymoon with Prince Philip in 1947.
Evidently, taking Susan along on her honeymoon was not enough for Queen Elizabeth II. She took things to the next level by breeding Susan to keep her bloodline going. How very royal family of her!
As of 2016, Susan's last living descendants were Willow and Holly, sisters born in 2003. Holly passed away in late 2016, according to Vanity Fair. Sadly, Willow passed away last month at the age of 15, ending the royal canine bloodline, as reported by the Daily Mail. Willow had been battling cancer, and she was put to sleep at Windsor Castle.
Queen Elizabeth II still has two other dogs — "dorgis" aka dachshund-corgi mixes named Vulcan and Candy, The Daily Mail reported. However, it's hard to compare them to Willow, who was reportedly a 14th generation descendent from Susan. That sure seems like a lot of dogs, but the math makes sense considering the Queen has owned more than 30 dogs (almost always multiple at a time) over the course of her 92-year life. Plus, being a dog owner has undoubtedly been easier for the Queen as she's probably never had to pick up dog poop, thanks to what is likely a very attentive staff.
It's unclear why the royal corgi line stopped — perhaps the last remaining royal dogs were unable to breed, or perhaps the Queen chose to stop breeding them for an unknown reason. Either way, it's clear that she is a huge fan of corgis — even though some of her human family members may not be.
Prince William was once asked in an interview about how the Queen's private life keeps her sane. "I would definitely argue the sanity of all the corgis barking the whole time," he responded, as reported by Vanity Fair. "I don't know how she copes with it."
His younger brother Prince Harry has evidently had moments of frustration with the corgis as well — but his fiancée Meghan Markle has had no such misfortune. In their post-engagement interview, the couple opened up about Markle's burgeoning relationship with the Queen, and, most importantly, her corgis. Prince Harry said to Markle in the interview, according to The Telegraph:
And the corgis took to you straight away. I've spent the last 33 years being barked at; this one walks in, absolutely nothing. Just wagging tails and I was just like 'argh'.
"Just laying on my feet during tea," Markle said of the corgis. "It was very sweet."
It's clear that all of the Queen's dogs — whether royal or not, and whether corgis or dorgis — are truly part of the royal family. Here's hoping Vulcan and Candy have roles in the upcoming royal wedding.