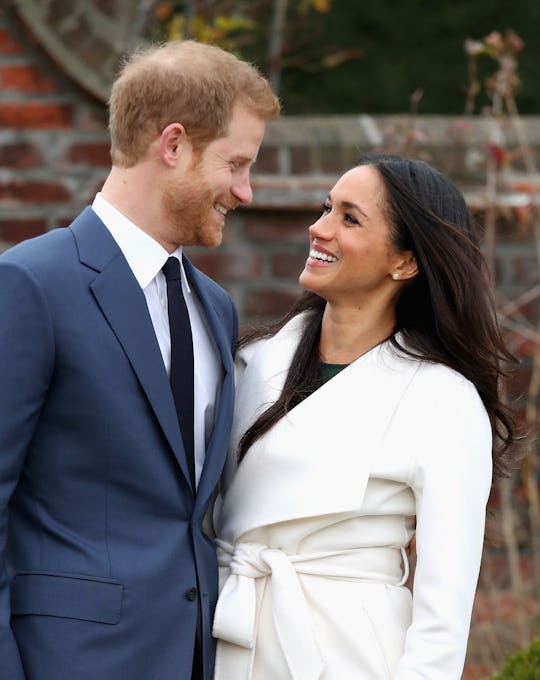 Chris Jackson/Getty Images Entertainment/Getty Images
Yes, The Royal Wedding Will Play In Movie Theaters, & Here's How You Can Get Tickets
At this point, if you haven't gotten an invitation to the royal wedding, it's safe to say you aren't invited. Sorry, babes. Luckily, the ceremony between Prince Harry and Meghan Markle will be available for your viewing pleasure on a variety of platforms. In addition to airing live on TV and being available for live streaming online, the royal wedding will actually play in movie theaters all across the United States on the couple's big day. Here's everything you need to know about getting tickets to watching the hottest wedding of the year on the big screen.
Fathom Events, a company known for broadcasting big events in movie theaters, and BritBox, a British streaming service, have partnered to air "Harry & Meghan - The Royal Wedding: The Big Day on the Big Screen" in various movie theaters all over the United States on May 19. A quick search shows that the royal wedding will play at numerous movie theaters, in small towns and big cities alike.
Markle and Prince Harry will tie the knot at 12:00 p.m. local time at St George's Chapel, according to Kensington Palace's Twitter. For those in the United States, that's 7 a.m. Eastern Time, and 4 a.m. Pacific Time. Oof.
If that's a little early for you to drag yourself out of bed just to watch the festivities be bogged down by commercials on a tiny TV, there's so much more good news about these movie theater showings. They will air at 10:00 a.m. local time across the United States, and they will be commercial-free (still clocking in at three and a half hours, though). The ticket price also appears to be $10 across the board, which, if you live in an egregiously-expensive city like New York City where movie tickets can run over $18 a pop, is a pretty sweet deal.
Fathom Events shared more information about the livestream on its website, noting that this is the first time a royal wedding will be shown in movie theaters. The website reads:
Save the date—wedding bells are chiming! The Big Day comes to the Big Screen! BritBox and Fathom Events will feature an exclusive theatrical presentation of ITV's Royal Wedding coverage in an encore performance. Share all the moments of Harry and Meghan's grand celebration, commercial free, with your friends, family, and neighbors. This marks the first time ever that the Royal Wedding will be featured in select cinemas.
At three and a half hours, it seems like viewers will get a glimpse into many aspects of the day besides just the ceremony. The day has a pretty jam-packed schedule, kicking off with an hour-long ceremony at 12:00 p.m., as noted by Kensington Palace on Twitter. At 1 p.m., the newly-married couple will go on a carriage procession around the Long Walk, finishing at Windsor Castle. Then, there will be a reception back at St. George's Hall for everyone who attended the ceremony, followed by a second (and private) reception hosted by Prince Harry's father, Prince Charles, for close friends and family. The three-and-a-half hour broadcast will probably wrap up sometime during the first reception, as the second one is private.
All that being said, if you'd rather watch the lengthy hoopla from the comfort of your own home, you have plenty of options. In terms of live streaming, the possibilities are endless. The New York Times, ABC News, Good Morning America, and YouTube are all expected to air online live streams of the wedding, with no logins necessary. If you have a TV, you can watch the wedding live on a variety of channels, including ABC, CBS, PBS, BBC America, and E!, the latter of which will air five hours of coverage. However, if you choose to enjoy your Saturday and sleep in, you should be able to find highlight clips throughout the day until news channels re-broadcast the royal wedding later that night. Basically, no matter how you choose to watch the royal wedding, it's sure to be fabulous.