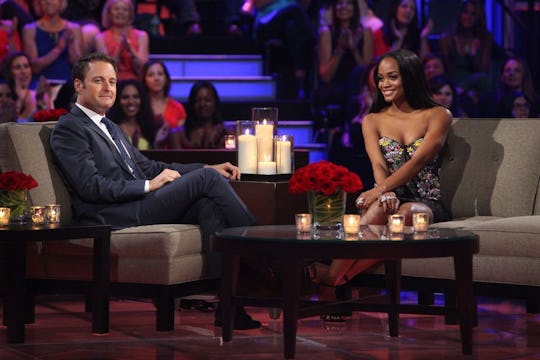 Paul Hebert/ABC
Photos Of Rachel's Engagement Ring Will Drive 'Bachelorette' Fans Wild
If Chris Harrison is basically the face of The Bachelorette, then Neil Lane is his trusty sidekick who comes in and totally steals the show for an episode each season when he busts out a collection of engagement rings for contestants to choose from. Seriously, these rocks are tens of thousands of dollars and for some, they wouldn't have been able to afford such luxurious pieces of jewelry otherwise. Which is why photos of Rachel's engagement ring on The Bachelorette will make you even more excited for the new couple.
Even though her ring is exactly what you'd expect as another shiny Neil Lane engagement ring brought to you by The Bachelorette, Rachel had at first objected to anything more complicated than a simple wedding band for herself. "I've been very simple," the newly engaged Bachelorette told USA Today in July. "I just wanted bands, just a stack of bands, and they said, 'No no no Neil Lane is not going to do that!' So I said, 'OK, fine! I'll pick a cut!' And so I picked pear shape, which is something I really like and from there, 'the one' ran with it."
Obviously we now know that "the one" turned out to be Bryan, who picked Rachel's engagement ring out himself on The Bachelorette season finale, and though it wasn't the simple plain band she previously wanted, she seemed more than excited to accept it.
At the beginning of the season, Rachel confirmed that she's engaged well before fans even had a chance to fill out their Bachelorette fantasy rosters, but it didn't take away from the drama and intrigue her season definitely brought. And even though she couldn't wear her official engagement ring out in public, she had on a simple band as a sort of placeholder when she talked to Mario Lopez on Extra in May.
In addition to not being able to announce her new fiancé's name at the time, she also couldn't sport her Neil Lane ring just yet, but even then, she was clearly excited to be a newly engaged woman.
And now, the photos of Rachel's engagement ring on The Bachelorette don't even seem to do it justice. She had a vision in her mind of the perfect ring to be picked for her by Bryan and he seemed to get it right, so maybe there really is something to the whole two-month long relationship before an engagement thing.