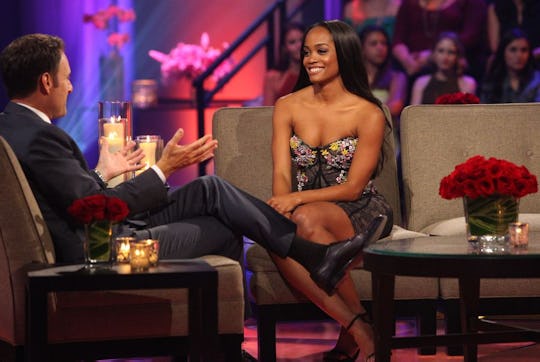 Paul Hebert/ABC
Rachel & Her Fiancé Are Still Going Strong After 'The Bachelorette'
Even though the whole point of The Bachelorette is to find love and marriage at the end of the season, it's still a delightful surprise when you find out that the couple lasts longer than the duration of the show once it airs. That being said, is Rachel still engaged on The Bachelorette? She definitely found love this season, but was it the lasting kind that still has her going strong with her secret fiancé, or is it already over?
People magazine caught up with Rachel at the Sports Illustrated Fashionable 50 event in Hollywood recently and she had only positive things to say about the man she chose at the end of The Bachelorette filming this season. "I love my fiancé," she told People. "I just saw him yesterday. We just finished having our little rendezvous. We called it Happy Couples Weekend. Every time I spend more time with him, it's even better."
Because Rachel got engaged on a reality dating show that hasn't yet finished airing, she has to keep her decision on the down low and as a result has to rely on secret meetups with her new fiancé, but it looks like whoever Rachel picks at the end of The Bachelorette is still making a strong impression on her.
Without giving away who she's now engaged to, Rachel has been as open as she can about her new relationship and love for her fiancé. She told E! News that since they can't see each other as often as they'd like, they try to stay in contact regardless. "We talk every day, we text, we FaceTime. We have secret meetings where we see each other, but it's never enough!" She said.
Lauren Zima of Entertainment Tonight recently spoke with Rachel's friend and former Bachelor contestant Astrid Loch about an Instagram post Rachel made about planning an engagement part, but since then, it has been taken down. Even so, it proves that if she's planning parties to celebrate her relationship, Rachel is still engaged after The Bachelorette.
Although Rachel is currently engaged, and happily so, the journey to get there was one filled with tears, second guessing, and as she wrote on her People.com blog, "it was not an easy road to get here" as an engaged woman. Right now, just Eric, Peter, and Bryan are left on The Bachelorette and any one of them seem plenty compatible with her. So since it's obviously one of the three that she's still engaged to, I'd say that the reality TV love odds worked out in Rachel's favor this season.