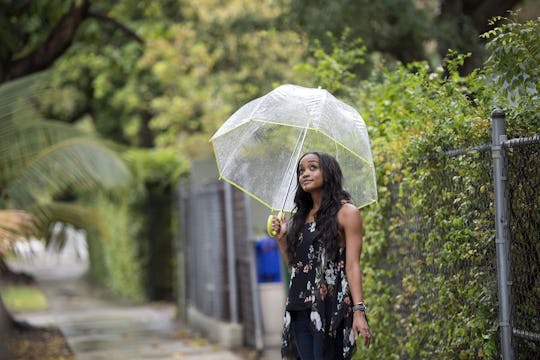 Rodrigo Varela/ABC
Rachel's Friend May Have Just Spoiled The 'Bachelorette' Winner
The biggest and most important question that fans have had from the start of the season until now is definitely, who wins the 2017 Bachelorette? There are already so many clues that point to who Rachel picks that her choice is becoming hard to ignore. At this point, it's no longer a matter of this particular contestant wins, but basically when we're finally going to see confirmation from Rachel herself. Warning: Bachelorette spoilers ahead.
He's been an obvious favorite for Rachel from the start, even garnering him some resentment from some of the other guys just because of the amount of one-on-one dates he's had with her. As of right now, the winner of Rachel's season of The Bachelorette just might be Bryan. The clues are piling up and I'm not just talking about their matching watches.
Since the season is close to the end, I doubt anyone is going to come out and confirm that Rachel and Bryan are engaged after The Bachelorette, but there's plenty of reason to suggest that the Miami chiropractor is the one for her. He did get that first impression rose and first kiss after all. But there are so many bigger clues that point to the winner of The Bachelorette.
Astrid Loch's Entertainment Tonight Interview
Fellow Season 21 Bachelor contestant Astrid Loch is still friends with Rachel and recently spoke to Entertainment Tonight's Lauren Zima in a Facebook Live interview. Naturally, the topic of who Rachel is engaged to came up because obviously that's what Zima wanted to know the most about. Maybe. Probably.
Anyway, she asked Astrid about Rachel's recent Instagram post about planning her engagement party and Astrid kind of let the cat out of the bag in a major way. She replied with, "They are going to Dallas to have a party there. He gets to meet all of her friends and non-Bachelor people too." Not too bad, except she followed it with, "And then they're going to Miami after that to have an engagement party there too." Who lives in Miami? Bryan, of course.
Rachel's Tweets Defending Bryan & His Cheeks
On Monday's episode of The Bachelorette, it was kind of hard to ignore the shade Peter was throwing at Bryan behind his back when he referred to all of the "fake asses, fake boobs, and fake cheeks" in Miami. Let's not pretend it was anything but a sly insult to his competition. Although Rachel didn't outright mention any names on Twitter, she did tweet out about the shade throwing in that hotel room while she and Bryan were spending time with her family.
Reality Steve Himself
Anyone who loves to ruin reality TV for themselves will eventually find him or herself browsing Reality Steve's website for all of the spoilers you could possibly need. And after briefly naming Peter as the winner, Reality Steve's Steve Carbone backtracked and, early on this season, announced that Bryan wins The Bachelorette with very little doubt to that claim.
Nothing confirms the winner of The Bachelorette like the season finale itself, but the clues that point to Bryan as the winner couldn't be clearer and from multiple sources, whether they meant to let it out or not. Until he gets down on one knee though, we can at least continue to enjoy the ride.