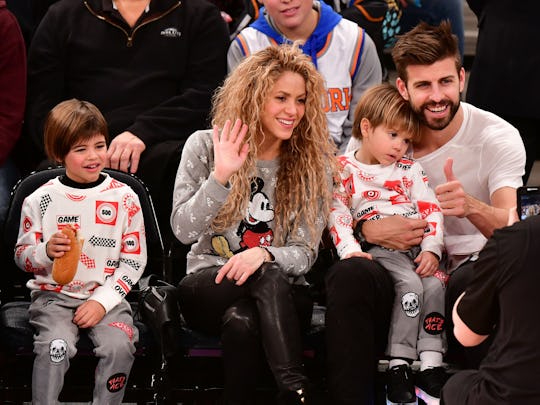 James Devaney/Getty Images Entertainment/Getty Images
Super Bowl Halftime Performer Shakira Has The Cutest Family & These Photos Prove It
Colombian superstar and mom of two Shakira is gearing up to perform at the halftime show for this year's Super Bowl in Miami, Florida on Sunday, alongside Jennifer Lopez. Ahead of the show, though, let's take a moment to browse through these adorable photos of Shakira with her kids, showcasing she has one sweet family who are undoubtedly her biggest fans.
Shakira is mom to two sons, 6-year-old Milan and 4-year-old Sasha, with her partner of 10 years, Spanish soccer star Gerard Piqué. The pair are becoming little social media stars in their own right, naturally, with both of their parents frequently taking to Instagram to share photos and videos of their sons.
Motherhood has been a real journey for Shakira, as she explained in a 2017 interview with Hola!, admitting that she is no longer the center of her own world and has instead become a "satellite" for her kids. She also noted that motherhood is "the hardest job I've ever had. I never thought it'd be so difficult, because it takes a lot of your energy. I think of my family a lot; I'm concerned about them all day. It's physical, emotional, and intellectual wear and tear. Thinking of making an album seemed like a Herculean task, like climbing Mount Everest." Fortunately her cute kids sure seem to make it all worthwhile.