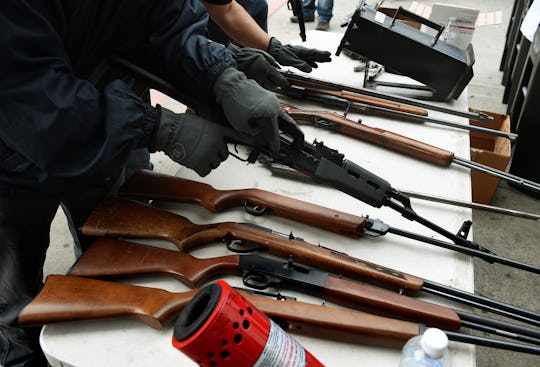 MARK RALSTON/AFP/Getty Images
Photos Of The Democrats Sit-in To Force A Gun Vote Show How Critical The Issue Is
As the country is still grappling with the targeted deadly shooting in a gay nightclub in Orlando that took the lives of 49 people, House Democrats are taking action to demand change on gun safety laws. Photos of the Democrats sit-in on the House floor on Wednesday, led by civil rights activist and Democratic Rep. John L. Lewis, have made rounds on the internet, and show exactly how critical the issue is.
Lewis staged a sit-in and was joined by other House Democrats, including Reps. Donna F. Edwards, Joe Crowley, John Larson, among others Politico reported. In a tweet published Wednesday, Lewis shared a video of his speech announcing his and his colleagues' decision to stage a sit-in in an effort to push Congress to address gun violence.
"My colleagues & I have had enough," Lewis tweeted. "We are sitting-in on the House Floor until we get a vote to address gun violence.
He later said on the House floor:
... I have had what I call an executive session with myself. For months, even for years, through several session of Congress I wondered, what would bring this body to take action. What would finally make Congress do what is right. What is just, what the people of this country have been demanding, and what is long overdue.
The House Democrats and supporters of the sit-in are using the hashtag #NoBillNoBreak to call attention to the sit-in and the need for gun safety laws.
But some time after the sit-in began, the cameras featuring live footage of the House on C-SPAN had reportedly been cut off. Many have since taken to Twitter to demand that House Speaker Paul Ryan turn the cameras back on.
C-SPAN tweeted that it has "no control over the U.S House TV cameras."
With the public unable to watch the live sit-in, New Jersey Sen. Cory Booker, posted videos from the House to his Twitter account, as he joined in solidarity with House Democrats to demand gun safety.
Booker was joined by other senators who came to the House to support the sit-in. Connecticut Sens. Chris Murphy and Richard Blumenthal, Hawaii Sen. Mazie K. Hirono, Massachusetts Sen. Ed Markey, Florida Sen. Bill Nelson, and Minnesota Sen. Al Franken, were among those who joined.
C-SPAN announced on Twitter that it would air a Periscope video of the sit-in, filmed by California Rep. Scott Peters. The live footage can also be streamed here.
U.S Capitol Democratic House Minority Leader Nancy Pelosi told reporters on Wednesday that members of Congress are tired of waiting when it comes to gun violence, according to The Atlantic:
Members, they have just had it. What's important about this moment is the spontaneity of it all on the part of each and every member. All of them want to be a part of the echo chamber against gun violence in our country.
Wednesday's House sit-in comes days after the Senate's filibuster on gun control legislation, which resulted in the Senate rejecting four separate measures to limit gun sales.