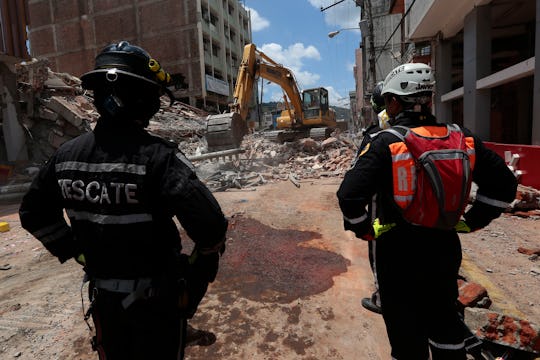 JUAN CEVALLOS/AFP/Getty Images
Photos Of The Ecuador Earthquake Devastation Show The True Scale Of The Disaster
The death toll from Saturday's devastating earthquake in Ecuador continued to rise on Sunday, as rescue teams searched for survivors in the wreckage. Multiple news outlets put the number of fatalities at 235, with more than 1,500 injured, and that number is only expected to increase. And now, pictures of the earthquake in Ecuador show the true extent of the damage, with heartbreaking images of people standing in the remains of what used to be their homes, attempting to remain safe from falling rubble by sleeping in local parks hitting headlines everywhere.
The magnitude 7.8 quake struck off the Pacific coast on Saturday night, laying waste to many coastal towns like Pedernales, which the mayor said had been almost entirely flattened by the disaster. Some of these coastal towns still have yet to report the full extent of their damage, meaning that the casualties could rise drastically. The earthquake's reach traveled over 300 miles to Guayaquil, Ecuador's most populated city, where a bridge collapsed. The government is sending help northward to the areas with the greatest devastation, but these troops have been delayed by landslides and poor road conditions. Meanwhile, the BBC reports, some people are attempting to dig out survivors with their bare hands.
In the hours following the disaster, horrific images began circulating the internet, providing viewers with a terrifying look at what could only be described as something out of post-apocalyptic landscape:
The images from the scene of the disaster show how easily the massive quake was able to tear down huge buildings, which crumpled to the ground as if they were nothing. No wonder that, as survivor Jose Meregildo told CNN, "Everybody in my neighborhood was screaming saying it was going to be the end of the world."
Ecuador, which lies on the seismically-active "Ring of Fire" in the Pacific basin, is no stranger to earthquakes, having experienced seven shocks of magnitude 7 or higher since 1990. However, Saturday's earthquake is believed to be the most devastating in many decades, even without knowing the full extent of the damage. President Rafael Correa cut short his visit to Europe this weekend to return home and declare a state of emergency in the country, which gives the government expanded authority. Already, aid has started pouring in from neighboring countries, and people around the world have been offering their condolences, including Pope Francis, who said in a Sunday sermon:
Last night a violent earthquake hit Ecuador, causing numerous victims and great damages. Let's pray for those populations, and for those of Japan, where as well there has been some earthquakes in the last days. The help of God and of the brothers give them strength and support.