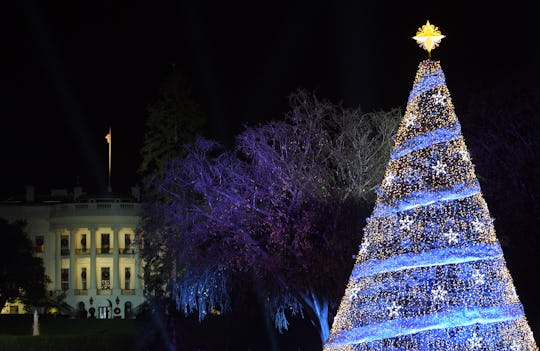 Astrid Riecken/Getty Images News/Getty Images
Check Out These Photos Of The White House Christmas Decor Through The Years
It's a huge undertaking, trying to decorate the White House. I mean, I can barely come up with a theme for my dollar store Christmas village on my coffee table, truth be told. Still, there have been some really gorgeous photos of the White House Christmas decor over the years, proving some people really know how to knock it out of the park. Others, however... sigh. Blood red Christmas trees are maybe not the nostalgic, festive look everyone might have been expecting. No offense, Melania.
First Lady Melania Trump recently unveiled a first peak at her second year of Christmas decor at the White House, and it's already causing a buzz. Now I feel like I should preempt this by saying that I get how tough it must be to come up with something unique and lovely and universally embraced as being the embodiment of the real spirit of Christmas. I would even go so far as to say it's nigh on impossible. But still.... row upon eerie row of blood-red Christmas trees? The theme is not, as some might expect on first viewing, an ode to The Shining, but is apparently called "America's Treasures." And while there are areas of the White House that enjoy a few other colored lights and merry looking trees and such, it is those rows of red trees that have people scratching their heads.
The Trump Family Christmas
The prevailing theme of red is a bit of a departure from last year's White House Christmas theme, which was apparently akin to a Tim Burton nightmare in shades of ghostly silver and white. Or, as one clever Twitter user noted, perhaps Melania Trump was going for a Disney Queen villain aesthetic, which makes me actually like these looks about 15 percent more.
An Obama Story
Michelle Obama went for a bit of a different look when she was the First Lady. Some might call it more traditional, others might think it's more tasteful. Some might not even like it quite as much as the more monochromatic looks seen over the last two years. You be the judge.
The Christmas Bush
When George W. Bush was the president in the early 2000s his wife Laura Bush went for a Christmas look she called "comforts of home" in the White House. Maybe because she was sort of ready to leave the White House and head on back to Texas, who knows?
Once Upon A Clinton
If you thought Melania Trump's theme of "American Treasures" sounded vaguely familiar, please see former First Lady Hillary Clinton's 1999 White House Christmas decor.
And here she is in 1995 receiving the delivery of a 19-foot Fraser fir in time for the holidays at the White House.
A Very Barbara Bush Christmas
Prior to the Clinton administration, Barbara Bush made the wise decision to go super-classic and chose the same theme that Jackie Kennedy chose for her Christmas in the White House in 1961, the good old Nutcracker Suite.
The Reagan Family Tree (Plus Mr. T)
Here's Nancy Reagan decorating the tree beside President Reagan back in the 80's. The theme was feathered hair and shoulder pads.
Just kidding. It was Christmas trees and Mr. T dressed as Santa.
Christmas In Camelot
Of course, Jackie Kennedy was the woman who started the tradition of decorating the White House with a specific theme that all other first ladies have followed to this day.
Clearly every first lady had her own different style, which is what makes seeing the White House decor exciting each year.
And if Melania Trump wants to keep up with what some would call an austere, dystopian look? I mean, it's a free country, right?
It still is, right?
This first-time mom wants to have a home birth, but is she ready? Watch how a doula supports a military mom who's determined to have a home birth in Episode One of Romper's Doula Diaries, Season Two, below. Visit Bustle Digital Group's YouTube page for the next three episodes, launching every Monday starting November 26.