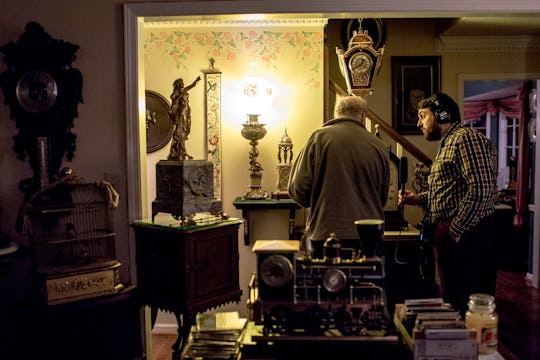 Courtesy of Andrea Morales
'S-Town's Tyler Goodson Deserves His Privacy
Often, stories of death and mayhem, those true-life mysteries, are so engrossing that they become entertainment. That was certainly the case with the runaway hit podcast of 2014, Serial, which chronicled in painstaking detail the murder of a Baltimore high school student in 1999. And it's true of the the phenomenon's follow-up series, S-Town, which is also the serialized nonfiction tale of the fallout of a death. And when real life becomes entertainment, people want to know more about the real people at the center of the story. When it comes to S-Town, the person listeners may want to understand most is the one who was arguably closest to the story's main focus. And, for those insatiable masses, photos of Tyler Goodson do exist, but it's important to remember that he deserves privacy, too.
If you haven't listened to at least the first few of the seven "chapters" that make up S-Town, all of which were released March 28, go ahead and do that before reading on. Warning: SPOILERS AHEAD.
So, if you're still here, you already know this: John B. McLemore contacted This American Life producer Brian Reed in 2013, urging him to investigate alleged police corruption and a possible murder coverup in the tiny Alabama town of Woodstock where he lived. Eventually, Reed does — and ends up sorting through the dramatic and contentious debris of McLemore's suicide in June 2015.
And at the center of that tumultuous aftermath (there is a treasure hunt for real gold), is Tyler Goodson, who was in his early 20s and who described McLemore as "like a daddy to me." Goodson worked on the older man's property, was so close with the family he called McLemore's mother "Mama," and spent the day leading up to his friend's suicide with him celebrating their own Father's Day. McLemore had even said, to Reed and to Goodson himself, that he wanted to leave his (considerable) assets to Goodson when he died — a major source conflict as the podcast progresses.
Besides the legal drama that ensues for Goodson — it's seriously worthwhile to listen to the podcast for the details on that — the whole debacle was emotionally taxing for him, as he tells Reed during one of their many conversations:
I miss the hell out of him, but if I could bring him back to life, I'd probably beat the hell out of him for all the hell he's put me through for killing himself like that.
So, yes, it's more than natural to want to get as much information about Goodson and his life after binging on S-Town. And getting a hold of photos of the man is pretty easy, as he's active on Facebook. There's really nothing wrong with feeding the lingering curiosity that the best storytelling instills in us, but it's also important to remember that Goodson, and all the people featured in the podcast, aren't simply characters. They're real people who, in many some cases, are still dealing with the events that the podcast world just devoured this week.
After all, we saw with Serial how hurt the family of the murder victim, Hae Min Lee, was that Adnan Syed, her ex-boyfriend who was convicted of her killing, had garnered national sympathy from his podcast fame. "We do not speak as often or as loudly as those who support Adnan Syed, but we care just as much about this case," they said in a statement after he was granted a new trial in July, according to The New York Times.
Both Serial and S-Town represent storytelling in its highest form. But Hae Min Lee's murder and John B. McLemore's suicide had serious repercussions for those who knew them — so it's important to be sensitive to that when posting about the stories online, and, yes, in seeking out photos and other information, too.
This is all entertaining, but it's not an episode of Scandal.