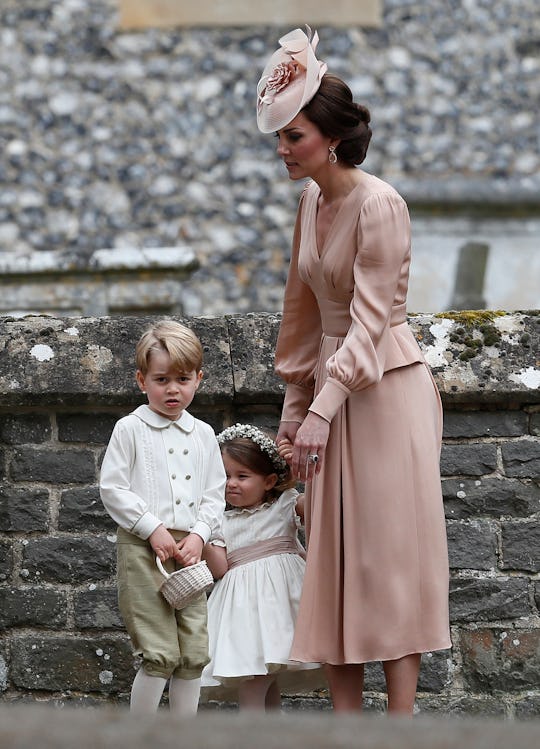 WPA Pool/Getty Images Entertainment/Getty Images
George & Charlotte Steal The Show At Pippa's Wedding
In 2011, Pippa Middleton a little bit stole the show at her sister Kate's wedding by looking incredible in an Alexander McQueen dress. Princess Kate didn't seem to mind, on account of she was marrying a prince and looked to be pretty insanely happy. Now, it's Pippa's turn to be (rather adorably) upstaged at her own wedding. Adorable pictures of Prince George and Princess Charlotte at Pippa's wedding are flooding social media, because there are few things in this world more life-affirming than adorable children in fancy dress-up clothes. Particularly when they get unruly... so thank you, wee Princess Charlotte, for that added bonus.
Pippa Middleton wed longtime love, financier James Matthews, on Saturday at St. Mark's church in Englefield, Berkshire. Picture the setting, if you will; a 12th century church on a beautiful Saturday morning in a quaint country village in England. Pippa Middelton wearing a custom Giles Deacon white lace dress with cap sleeves and a train, beaming happily. Her older sister, now the Duchess of Cambridge, on hand to make sure everything goes swimmingly and support her sister. The two best princes, William and Harry, arriving in formal suits to witness the occasion. And perhaps best of all, three-year-old Prince George and two-year-old Princess Charlotte ready to fulfill their duties as most adorable page boy and bridesmaid ever.
Can we talk for a moment about Prince George's shorty pantaloons and knee socks? I can't even. The children's bespoke wedding outfits were all designed by Pepa and Co. of London, and seriously couldn't have been cuter if they tried. The little girls wore wreaths in their hair and all of the children carried tiny baskets of flower petals to throw at the feet of the newly married couple, who got engaged last summer.
Prince George looked a proper little gentleman, naturally. Like a boy who might someday be a King. But let's not get ahead of ourselves.
Of course, any time there are children in the wedding party there's bound to be one of those kids... a feisty little person who doesn't always feel like cooperating. This time around, I believe little Princess Charlotte won the title. She appeared to be watched pretty carefully by her mom, Princess Kate, and might have even gotten a gentle scolding or two. I love that kid.
Actually, it seems Princess Kate's official role was kid wrangler at the wedding. And she performed her duties well.
But that doesn't mean she didn't take a moment to beam at her sister arriving with her father, Michael Middleton.
Pippa Middleton was a beautiful bride. The 33-year-old looked happy and excited and can pull off a cap sleeve, which is an impressive feat on its own. But let's face it; no adult can ever fully compete with little children in fancy pants and dresses. It's just the nature of things.