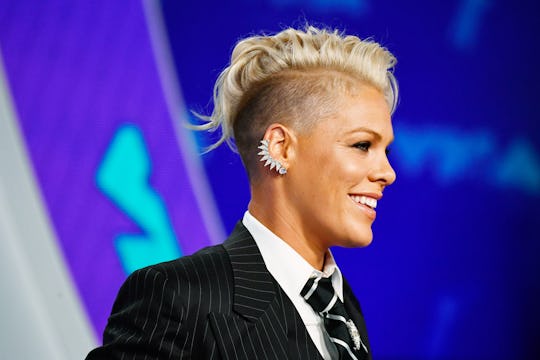 Frazer Harrison/Getty Images Entertainment/Getty Images
Pink Shared Some Seriously Relatable Mom Texts
As cute and cuddly as babies are, sometimes they can be just down right awful. Crying, screaming, throwing the same toy over and over again just to see you bend over when your back is sore. Sometimes, you just need to vent about all of it. And yet again, saying what every other mom is thinking, Pink shared some mom texts between her and a friend on Instagram and perfectly summed up the evil ways of babies. And this exchange is seriously so relatable.
Pink and her husband Cary Hart have two beautiful children together, 6-year-old Willow and 8-month-old Jameson. And since becoming parents, they have not shied away from sharing the fun, funny, and frustrating parts of raising children with their fans on social media. Photos and anecdotes about their two children often take center stage on their profiles.
Most recently, Pink shared a screen shot of a text message conversation between herself and an unnamed friend where they discussed the stamina that babies have for crying. Pink wrote, "Why do babies cry so much. I feel like he's f*cking with me at this point." And her friend replied appropriately. "Babies are c*nts," she replied.
The Sept. 10 post has since received more than 125,000 likes and almost 4,000 shares, many of which are from people with children of their own. Many other moms commented on the post to commiserate and share their support for her struggle.
One commenter warned that she was in for even harder times down the line:
Brilliant!! Then they're sweet for a while. Then they turn into teenagers and are even bigger c*nts!!
Another shared that she and her friend have similar conversations over the not-so-joyous moments that come with parenthood:
Sounds like me and my friend. We have said that exact thing, they have to be fucking with us. We start so many texts with "This asshole..."
Sharing evidence that you're anything less than the mythical perfect parent on social media can be a bit dangerous. Pink, however, has shown that she isn't afraid to be honest about her experiences as a mom and this post is more evidence of that. Fortunately, this hilarious convo didn't prompt the same mom-shaming as her earlier post of her cooking with her children.
In another Instagram from the past weekend, Pink posted a video clip of her daughter Willow playing with a custom doll made in her mother's likeness. Pink captioned the photo, "Just willow hanging out with her mom," adding the hashtag, "#dontstickpinsinmeplease."
One of the best parts of celebrity parents is the inspiration that they provide to the average mom or dad. While lighthearted, Pink's post shows that it is alright to get frustrated every now and then because parenting is hard.
Check out Romper's new video series, Romper's Doula Diaries: