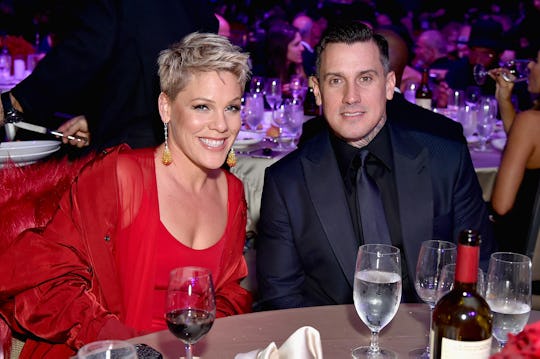 Mike Coppola/Getty Images Entertainment/Getty Images
Pink Took The Most Hilarious Pic Of A "Family Meeting" In The Bathroom
Pink is one of the most famous singers on the planet, hence the fact that she has managed to claim a literal color as her one and only name without dispute. She's a powerful woman, and she's married to a powerful man, motocross racer Carey Hart. Two powerful people, and yet when it comes to their kids, they've got just about as much power as the rest of us parents. Which is to say basically none at all. As evidenced by the hilarious picture Pink took of a "family meeting" in the bathroom that is going to look shockingly familiar to anyone with small kids.
The couple are currently on tour with their kids, 7-year-old daughter Willow and 1-year-old son Jameson, to support Pink's Beautiful Trauma album. I get the sense that it's been a trip of great highs and difficult lows, with every day acts of parenting in between. This recent picture of the family that the "So What" singer took, which Hart shared on his Instagram, is definitely the latter. A pretty typical day for a parent who sometimes just wants to use the toilet by themselves but is naturally thwarted by a small toddler. Because those little people really don't get boundaries at all.
The photo shows Hart on the toilet (sorry but it's true) while Jameson sits on the floor at his feet utterly unconcerned. Willow is peeking around the corner, and Pink is taking a picture, and wasn't it so great when your toilet business was really just your business? As Hart captioned the photo:
Dude, can I just take a s**t?? Family meetings always have to happen when I'm pissing off IG
While it might have been something of a low point for Hart, loads of parents took to Instagram to tell him they feel his very public pain:
Seem the kids ALWAYS have something SUPER important that can wait....when ur in the bathroom
Lol I am a single mom and I have 2 boys and a dog in the bathroom with me! Lol
Being a parent.......living the dream. You can 💩 alone after they move out. That day will be there before you know it.
Pink and Hart both have a talent for being super real about parenting, and this recent post about trying to use the toilet alone is just another in a long line of great moments. Like the time Jameson was walking around with a bin on his head, despite the fact that he was sick. As Pink noted in her post:
Even when he's sick, he still finds ways to get stuck in a trash can.
Or when she shared a beautiful picture of herself with Willow in San Francisco and admitted that she struggles to find balance in the way that she's raising her daughter:
The older she gets the less clear I am on how to guide her. Do I take the raw honest tough way? Do I cuddle her and tell her to not to worry? Do I let her be sassy knowing I want her to be strong and need her to be strong to survive in this world? Of course, but how do you interject subtlety and kindness?
To me, Pink really does paint a true picture of what parenting looks like for most of us. Some days are funny, some are tiring. Some are filled with little people who won't give you a moment's peace in the bathroom, and some are filled with quiet doubts that you're not raising them right. Parenting is all of these things, all of the time.
Pink and Carey Hart totally get it.