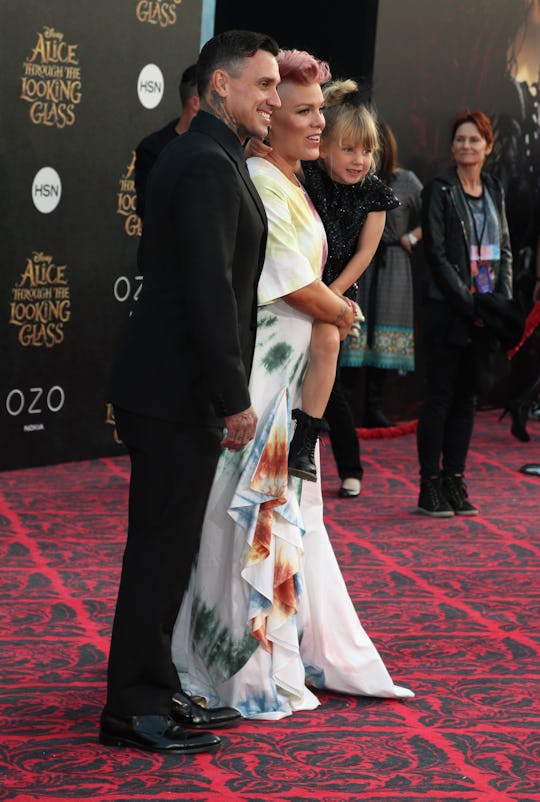 Frederick M. Brown/Getty Images Entertainment/Getty Images
Pink's Baby Weight Comments Are Refreshing
It's not easy to deal with your body image, ever — especially not after having a baby. That's why singer-songwriter Pink's recent baby weight comments are so refreshing. They're honest, down to earth, and reflect how so many of us feel.
Basically, Pink, who gave birth to her son Jameson in December, couldn't care less that there are people out there scouring paparazzi photos to see what her thighs look in yoga pants, post-baby. (Really: if you've stowed your skinny jeans for a month or so, whether because of a new baby or just a winter hibernation period, put those pants on and rock them with all of your energy. Do it for Pink.) In the caption of a recent Instagram photo, snapped at the gym with trainer Jeanette Jenkins, Pink enthused, "Week six post-baby and I haven't lost any weight yet! Yay me! I'm normal!"
Because of course she's normal. And anyone who puts on any weight because of a pregnancy is undergoing a change that's not just normal — it's natural. And healthy.
It's the same reason why some celebs who immediately try to Instagram their workouts in the name of achieving a "post-baby bod" is so frustrating. Are there some women who are fitness buffs and maintain their six-pack throughout their pregnancy? Sure. And that's OK — more power to them. But there are some women who don't. And there's absolutely nothing wrong with that. In fact the former is more the exception than the rule.
What's great about Pink's comments is that she gets all of that — that it's totally alright to love your pregnancy body and the post-baby body, even though it doesn't feel like your own anymore. And it's totally alright to take some time to settle back into your pre-baby physicality, if at all.
More than being refreshing, Pink's thoughts about her post-baby body are pretty common. It's nice to know that Pink, too, is learning to love her new curves and learning to embrace that moment that the yoga leggings just don't fit anymore.
So sure — Pink's selfie shouldn't be over-analyzed. So many women out there feel the same every day and don't get quoted in news articles or blog posts, or get called "on point" or praised for their honesty. But it doesn't take away from the fact that her comments were real, smart, and relatable. Plenty of moms, pregnant people, and those hoping to become pregnant appreciate the fact that she's speaking out and keeping things realistic anyway.