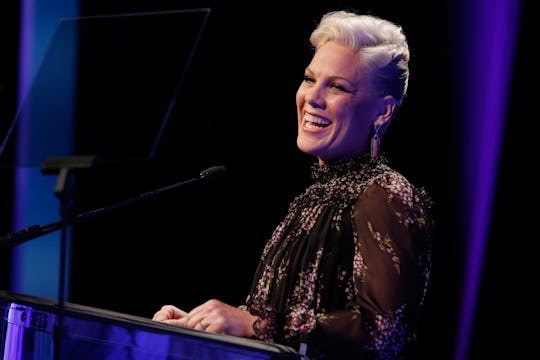 Joe Scarnici/Getty Images Entertainment/Getty Images
Pink's New Breastfeeding Selfie Is Empowering AF
Think your "brelfie" game is on point? Pink's new breastfeeding selfie takes the art of the selfie to a whole new level, showing moms what multi-tasking can look like when you're a glamorous star. In the photo posted to her Instagram on Friday, Pink captures herself cradling 6-month-old son Jameson as he grabbed a snack while mom had her hair and makeup done at the same time — impressive. It appeared as though Jameson even tried to help out by dabbing his mom's boob with a makeup brush. Due to Instagram's nipple policy —which states that women cannot show their nipples, but men can — Pink placed a digital sticker over her own nipple in the photo.
Jameson Moon Hart was born in December 2016 and Pink has been happy to document life with the newest member of her family on social media, moments of breastfeeding and all. Pink has one other child with husband Carey Hart, a 6-year-old daughter named Willow Sage.
Pink captioned Friday's Instagram with "Jameson can multitask too," as she flashed a wide smile while her son tried his hand at highlighting and contouring mom's boob. It's a super sweet photo of Pink and her son that isn't unique to the pair, either. In 2012, Pink posted a picture of her breastfeeding her daughter Willow as she took a break during a photo shoot.
As an outspoken advocate for breastfeeding, Pink has no shame whatsoever — as no mom should — about breastfeeding in public and chronicling her breastfeeding journeys with both of her kids.
In 2012, shortly after the birth of her daughter, Pink wrote a letter to her fans that revealed just how much breastfeeding had already become a part of her life as a new mom. Pink wrote,
These days "bottle service" is more like "bottle warmer"….. but where I used to excel in my drinking capabilities, this time I'm excelling in productivity and vocals… and boobs. boobs boobs everywhere. That little girl can eat. TMI
On National Breastfeeding Day in August 2016, Pink posted a candidly beautiful photo of herself nursing her then 4-year-old daughter while on a trip to Helsinki, Finland. Pink captioned the photo, "I proudly post this photo of a very HEALTHY, NATURAL act between mother and child. Taken in Helsinki by a very supportive and proud Papa."
There's no denying that breastfeeding is seriously hard work. Could you imagine how much a breastfeeding mom would make if feeding her kids with her body also cut her a paycheck? I did — and it ain't chump change, either.
Pink certainly is one busy mom, as her Instagram shows. In between photo shoots and music festivals both in the United States and live performance stops across Europe later this summer, baby Jameson still has to eat. I love how casually Pink is able to show off that breastfeeding her son ain't no thang — it's all just part of being a working mom.
Pink's efforts to normalize breastfeeding, even with something as simple as an Instagram photo, does so much to help breastfeeding mamas feel confident on their journeys, too.