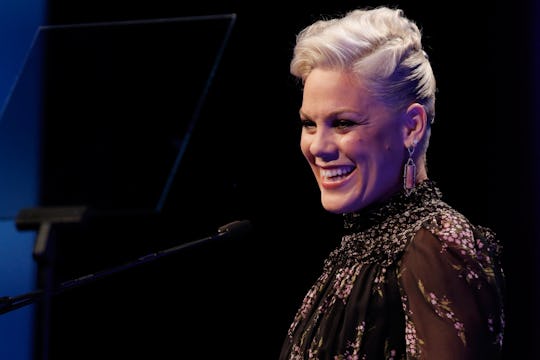 Joe Scarnici/Getty Images Entertainment/Getty Images
Pink's Message About Her Post-Baby Weight Is Empowering
For most people, losing weight under any circumstances is a long and exhausting journey. Add a newborn baby and a sleep-deprived mom to that equation and the process and pressure to lose the "baby weight" can start to feel overwhelming. But listen ladies, even a pop star like Pink who has all the money, resources, and time in the world to help her reach her pre-pregnancy body goals also struggles with that obsolete number on the scale. That's why Pink's message about her post-baby weight is so important to fellow moms and all women living in this size-obsessed world.
The 37-year-old mom of two, who recently welcomed her son Jameson Moon Hart last December, posted a photo on Instagram of herself looking fit and strong at the gym on Saturday afternoon, along with an empowering message to her followers. Essentially, the singer said that as long as you feel comfortable and feel healthy, then you shouldn't obsess about what the scale says.
"Would you believe I'm 160 pounds and 5'3"? By 'regular standards' that makes me obese. I know I'm not at my goal or anywhere near it after Baby 2 but dammit I don't feel obese," she captioned the mirror selfie she posted over the weekend. "The only thing I'm feeling is myself. Stay off that scale ladies!" She completed the post with the hashtags: "#feelingmyself," "#strongismygoal," "#bodygoals," "#happysaturday," "#getitin," and "#GIJaneismyWCW."
The "Just Like Fire" songstress doesn't posts about her weight loss journey often, but she did let fans know six weeks after giving birth to her son that she was perfectly content with the fact that she hadn't lost any of the baby weight yet. Then in February, she posted that she had made very realistic and healthy progress towards her goal weight.
"Commitment," she captioned another gym selfie with the hashtag "#5down30togo."
When Pink isn't sweating it out at the gym, her Instagram feed is filled with adorable snaps of her of sweet family just hanging out, hitting the slopes, or heading to the Women's March. Most recently, she posted an adorable video of her husband Carey Hart watching Grey's Anatomy on the couch with their 3-month-old son. (They're also parents to 5-year-old daughter Willow.)
"How you guys doing?" Pink asked Hart in the video. "It's 9:30 p.m. on a Friday, you're up late." Watch the hilariously cute video below:
Whether it be her take on something that can be as stressful as weight loss or something as cute as a relaxing night at home with her family on a Friday night, Pink's honest and down-to-earth mantra is one of the many reasons why fans love her.