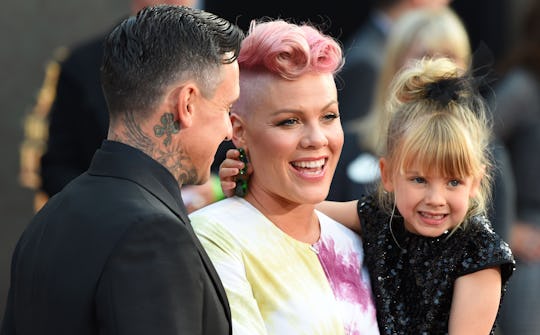 ROBYN BECK/AFP/Getty Images
Pink's Pregnant Thanksgiving Turkey Dance Is Beyond Adorable
While the rest of us were sleeping off our food comas after indulging in several helpings of turkey, stuffing, and pumpkin pie, Pink showed off her growing baby bump while doing an cute Thanksgiving "turkey dance," as she adorably dubbed it. The 37-year-old pop star and power mom, who is expecting her second child, posted the fun video of herself dancing with her pregnant belly, which looks like it's about to pop, on Instagram on Friday, Nov. 25, garnering more than 400,000 likes and hundreds of comments on the social media platform in less than a day.
"Late turkey dance love from The Harts #gratitude #loveyourself #loveeachother #morepie," she captioned the video of her rocking out with her bundle of joy, concluding it with a red heart emoji.
Just weeks before Thanksgiving, Pink revealed the exciting news that she and her husband, Carey Hart, were expecting their second child. The singer posted a stunning photo of herself on Instagram on Nov. 12, and in the photo, Pink is wearing a flowing white maternity gown while standing next to her 5-year-old daughter Willow Sage Hart. She captioned a beautiful shot, "Surprise!" as her baby bump at the time looked like she was already several months pregnant.
Watch Pink's adorable post-Thanksgiving dance video below:
It's adorably clear in the video that the soon-to-be mom-of-two is beyond excited to welcome her second child to world. After all, we already know that she loves "being a mama," as the singer said in an interview Good Morning America in back in May, gushing about motherhood.
"I love being a mama," the singer said in the interview. "I made a choice a long time ago that I was going to have a successful family, and that is my number one goal in life."
As for expanding family, Pink joked that she already has her hands full at home because she said her 41-year-old husband she feels like a "second child" to her. "I feel like I have two kids right now," she said in the same interview, adding that "Carey Hart is an awesome husband and a really great dad, but he's also like a second child."
Pink's latest post on social media didn't reveal anything more about her pregnancy than what fans already knew before Thanksgiving, like the sex, name ideas, or her due date. Her bay bump in the video, however, does look like that exciting day could be sooner than expected.
So if Pink's previous social media announcements are any indication as to how the happy couple will tell the world about their newborn's arrival, it will certainly be worth the wait.