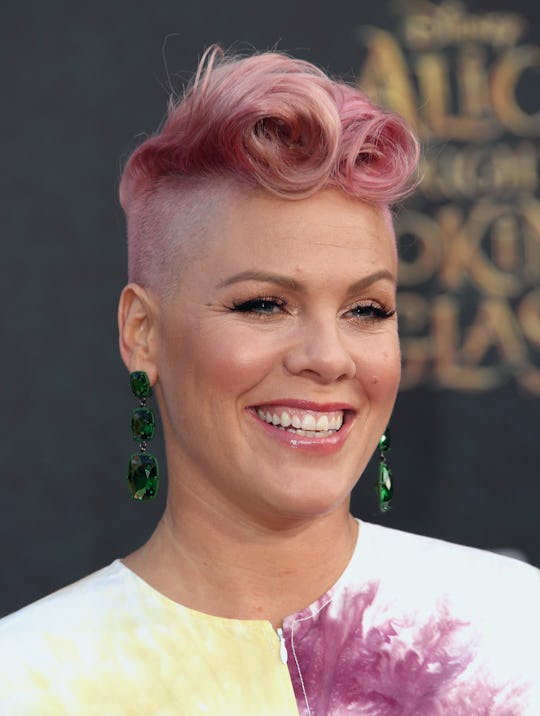 Frederick M. Brown/Getty Images Entertainment/Getty Images
Pink's "Spring Break" Instagram Posts Are Real AF
If I needed a spirit totem to represent motherhood (and I might), it would probably be Pink. Sure, I've been a mom for way longer than her, so I should technically be pretty good at it by now. But there's just something about the way she unfailingly represents for moms, the way she shows up and gets real. How do you not love her? Seriously, how? Need an example of her laid back, I'm getting real all day, every day motherhood attitude? Exhibit A: Pink's spring break Instagram posts.
Instead of using high end, sepia-toned Instagram filters to give new moms an unrealistic version of what parenting "should" look like, the Grammy award-winning singer uses her social media platform to paint a picture of actual motherhood. And it's a truly beautiful thing. As the mother of two sweet little beans (daughter Willow Sage is 5-years-old, son Jameson Moon was born on Dec. 26), Pink has shared some very intimate, very real parenting moments with her 1.7 million followers on Instagram. She has painted a picture of motherhood that doesn't feel like a picture at all; for many moms, it feels familiar. Like this great shot Pink shared on Friday; she's just hanging in a hotel bathrobe with Jameson on her lap.
As most of us know, the "Just Like Fire" singer is married to former motocross competitor Carey Hart. The two have made parenting a serious priority; in fact, the whole family (including newborn Jameson) turned up for the Women's March in January. Pink and Hart were well known for enjoying a little night life in the early stages of their romance. These days? Spring break with kids, as we all know, looks a little different. And Hart was clearly committing to partying hard, as Pink pointed out.
The 37-year-old singer captioned this photo #springbreak #heparties. And I'm sure all parents can relate to the vacation shift that happens post-parenting; gone are the days of sleeping until noon and partying all night. Such is life.
Before Pink took off for some vacation time with the family, she was taking to social media to share a little body positivity message with her fans.
Referencing the BMI index shared on the CDC's website (which does not take muscle mass into account), Pink captioned this photo of her post-workout:
Would you believe I'm 160 pounds and 5'3"? By 'regular standards' that makes me obese.
Tracyfabfam4, a grateful follower, commented:
What an inspiration you are! I am a mom and am always so hard on myself about my body and your post about being 160 pounds totally changed my perspective about myself! I love everything that you stand for and that you can be beautiful even if you don't fit in today's standards of women! Thank you so much for being such a great influence for women young and old!
This is what makes Pink my spirit totem. She understands the influence her social platform affords her. She doesn't abuse it... and she also doesn't take it too seriously.
I heart Pink.