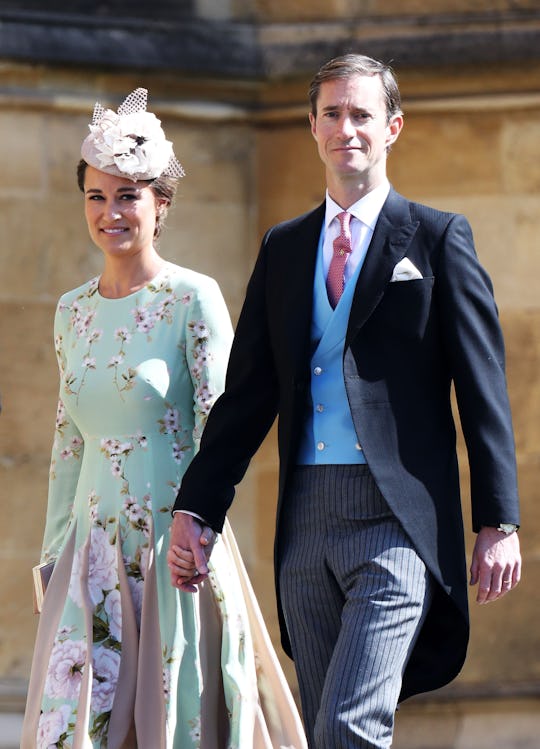 Chris Jackson/Getty Images Entertainment/Getty Images
Pippa Middleton Has Welcomed Her First Child With Husband James Matthews
Britain's youngest royals have a new cousin! After confirming her pregnancy in June — and documenting it in a column for grocery store newspaper, Waitrose Weekend — Pippa Middleton has given birth to her first child with husband, James Matthews. Despite being the younger sister of Catherine, the Duchess of Cambridge (not to mention one of the most famous bridesmaids of all time), Middleton enjoyed a fairly low-key pregnancy, and kept most of the details — including her due date and the baby's sex — under wraps. But now, the couple's little one has finally arrived, and it seems safe to say the new family is thrilled.
Given how tightlipped the couple was during her pregnancy, it's not exactly surprising that Middleton hasn't shared a ton of details — and there was definitely no posing for photographers on the Lindo Wing steps for her. But according to Hello! Magazine, Middleton gave birth to a baby boy on Monday, Oct. 15, weighing 8 lb and 9 oz. "Everyone is delighted and Mother and baby are doing well," a spokesperson for the couple told Hello! Magazine. The couple has not revealed their newborn's name just yet.
Now, Middleton and Matthews are busy settling into life as new parents, but if they have any questions, they definitely have a great support network to lean on. Catherine, for one, is already a mother of three, and with her youngest, Prince Louis, only 6 months old, it seems like Middleton will already have a clear go-to for mom playdates. And only last month, Middleton's brother-in-law, Spencer Matthews also welcomed his first child — a boy — into the world, with his wife, Vogue Williams, according to The Sun.
For the most part, it sounds like Middleton had a rather enjoyable pregnancy. In her Waitrose column, she wrote that she was "lucky to pass the 12-week scan without suffering from morning sickness," unlike her royal sister, who famously struggled through the extreme morning sickness of hyperemesis gravidarum throughout her pregnancies. And though she said she did have to adjust her fitness routine once she realized she was pregnant, Middleton simply opted to swap her more vigorous pre-baby workouts for ballet-inspired barre classes, according to Hello! Magazine, and noted that she was "determined not to break into a penguin-style waddle and plod around with bad posture."
Another practice Middleton adopted during pregnancy? Meditation. In her final Waitrose column prior to giving birth, Middleton wrote about her preparation for "birth and beyond," and revealed that she'd "signed up to a beginners' meditation class ... to master the tools essential for performing it effectively." For the mama-to-be, according to her column, that specifically involved "learning to meditate twice daily, ideally for 20 minutes, chanting a mantra, while sitting upright, eyes closed and focused," and while she admitted that it did take some getting used to, it sounds like she's become a big fan. She wrote, "after practicing this discipline for the past month I have noticed a huge difference in my mental wellbeing and sense of clarity."
Unfortunately for Baby Matthews, he isn't exactly entitled to the same royal privileges his cousins will be (particularly Prince George, who is set to one day inherit the throne), but that still doesn't mean he'll be a lowly commoner. Though they may not be royalty, Middleton's father-in-law, David Matthews, actually *does* have a fancy title. According to People, the elder Matthews also happens to be the Laird of Glen Affric, a 10,000-acre Scottish estate he purchased in 2008. Assuming the estate remains in the family, Matthews may choose to pass it on to his son, which would, in theory, make Middleton the future Lady of Glen Affric (not too shabby).
It's not exactly clear if Middleton intends to continue with her Waitrose column now that she's a new mom, but if not, it could be a while before we learn much else about her baby. But either way, something tells me this kid may have some very regal playdates in the future.