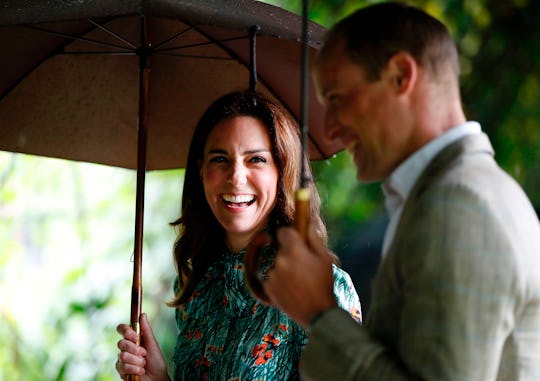 KIRSTY WIGGLESWORTH/AFP/Getty Images
10 Things You Should Never Say To A Pregnant Woman With Hyperemesis Gravidarum
When I read that Kate Middleton was pregnant and suffering from hyperemesis gravidarum (HG) for a third time, I cried. Just thinking about what she's going through is painful. Not only do I intimately understand the hell that is HG, but people have already started saying things about her on social media that reflect a total misunderstanding of the disease. Make no mistake, there are things you should never say to a pregnant woman with hyperemesis gravidarum, even if that pregnant woman is royalty and you don't think she'll be paying attention to Twitter or Facebook.
Perhaps the most frustrating thing people say about HG, in my opinion, is the choice to refer to it as morning sickness. People, it's not the same thing. Trust me, I should know. During my first pregnancy I had regular, run-of-the-mill morning sickness. I vomited a few times, and felt like I had a bad hangover for a couple of weeks. Luckily, I found that a steady dose of lemon hard candy and ginger ale was all I needed to function. Pretty soon I was feeling great again (yay second trimester!). But when I was suffering from hyperemesis gravidarum during my other pregnancies? Yeah, not so much. I vomited several times a day, couldn't keep anything down for days at a time, was sensitive to light and smells, got dangerously dehydrated, and actually lost quite a bit of weight before I found a combination of mediations that helped. Then, when the magical second trimester arrived and I was hoping the nausea would subside, I was still puking.
Being that sick when you're pregnant was a nightmare, and it's made worse when you have to care for other kids, work, and try to function all at the same time. I couldn't do most of the things that I relied on to manage my mental health, either, like run, do yoga, or, you know, eat. I wanted to be happy about my pregnancies, but it was so hard to feel anything other than miserable. I felt like no one understood, and I had some really dark thoughts as the result. Most medical providers I encountered completely dismissed my concerns, too, telling me to try crackers or ginger ale, as if I hadn't tried those things already. One ER doctor even refused to give me medication or fluids when I hadn't eaten for days and was so dehydrated my pee looked like apple juice, because it was "just morning sickness."
So yeah, there's quite a few things you should never say to a person with HG. You should probably keep pretty much anything other than, "I'm so sorry," "How can I help?" or, "That sounds so hard," to yourself.