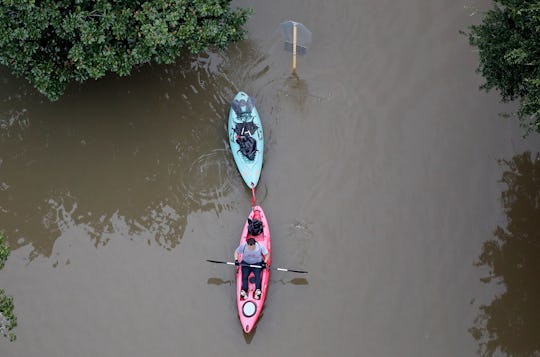 Win McNamee/Getty Images News/Getty Images
Pizza Hut Delivers Free Pizzas To Harvey Victims…
At the end of the day, even a harrowing, frightening day, it is often the little things that can make the biggest difference. A moment of unexpected kindness, a thoughtful gesture... or delicious free pizza. In this case, a little of all three. The people of Oak Lake, Texas were lucky enough to have their local Pizza Hut deliver free pizzas during Hurricane Harvey, and by kayak no less. Talk about going above and beyond.
Shayda Habib, the general manager of Pizza Hut in Sugar Land (a small southwestern town outside Houston) was concerned about local residents trying to ride out the storm. As of Thursday the town was still largely under water, and Habib told The Huffington Post she was concerned about people going hungry:
It's just been crazy with all the dark and the gloom in our area.
Thinking about those people in neighborhoods who have attempted to stay in their homes, Habib concocted a plan; she called in staff members who could get to work safely and started making pizzas. As for how to get those pizzas to customers in need; she decided to deliver pizzas in a most ingenious way. She told NBC affiliate KPRC:
When I heard there were families in need, I knew we needed to act fast. I called my husband and asked him to gather up kayaks and meet me at the restaurant.
The two managed to wrangle up a bunch of kayakers, including some staff members, family, and friends, to deliver a little goodwill in the form of hot pizzas. Really, the best sort of good will there is to be had.
Habib said that the kayakers delivered "still steaming" pizzas in their heat-locking boxes through waters which were sometimes chest-deep, and the results were totally worth it, according to The Huffington Post:
They waded in the water, as far as they could, to get to all these people and they're just so happy to see them. So happy to see Pizza Hut. One woman was like, 'You've got a customer for life.' That made me smile.
By the end of the day, 120 pizzas had been delivered to grateful customers. Not only were local customers grateful for the hot food (especially since it was pizza, the all-time perfect food), Pizza Hut headquarters took due notice:
Despite the gratitude that residents clearly felt for having pizzas delivered to their homes, Habib was quick to acknowledge to The Huffington Post that their thanks weren't necessary.
They're the reason why I have a job. If it wasn't for these people, I wouldn't have a job.
Pizza Hut needs to give this woman a raise. For delivering free pizzas to those in need and for restoring our faith in humanity.