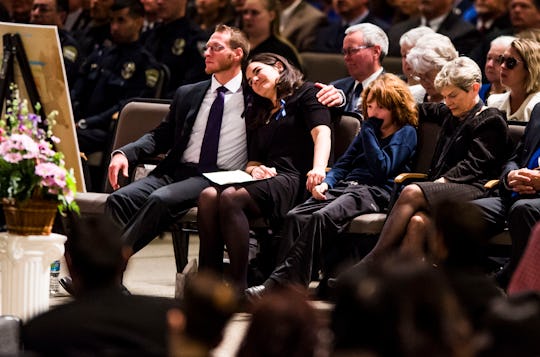 Pool/Getty Images News/Getty Images
Planned Parenthood Victims' Families Sue, Citing Security Failures
Since the devastating shooting at a Planned Parenthood clinic in the Rocky Mountains area of Colorado last November, families of the victims have been struggling to come to terms with their new reality. Unfortunately for some, that new reality is looking pretty harsh. On Tuesday this week, some of the Planned Parenthood victims' families decided to sue, and it looks to be a frustrating battle for everyone involved.
When Robert Lewis Dear, an anti-abortion domestic terrorist, entered the Colorado Springs Planned Parenthood clinic in November of 2015, wounding nine people and killing three, some of the victims' families involved in the suit felt the clinic did not do everything necessary to protect their patients. The two plaintiffs in the suit — Samantha Wagner, who was shot in the arm, and Ashley Stewart, the widow of Iraq war veteran Ke'Arere Stewart who was killed in the attack — claim that the clinic should have had much better security in place. According to Slate.com, the attorneys representing the plaintiffs attested in their suit:
[The Colorado Springs Planned Parenthood] in fact did not provide a safe and secure environment, nor did it provide any warnings of the very real threat and dangers that face people whom they invite and encourage to attend its clinic.
Whitney Phillips, a spokeswoman for Planned Parenthood, said:
Although we cannot comment on ongoing litigation, we believe that our health centers throughout the Rocky Mountain region are both safe and inviting for our patients and our staff who care for them. The safety of our patients, staff and facilities is, and always has been, a priority for us.
The suit further claims that the security should have been more stringent based on the "long history of violence" against abortion clinics:
It provided no signs, posters, verbal or any other type of warning describing the risk of physical harm, injury or death associated with entering (Planned Parenthood) properties.
Ke'Arere Stewart's widow Ashley is suing for wrongful death, while injured victim Samantha Wagner is suing for damages.
The question of how Robert Dean, a mentally disturbed man who reportedly dreams of being met by aborted fetuses thanking him for his service at the gates of heaven, was able to enter a Planned Parenthood facility with a gun is certainly cause for concern. He was recently ruled too incompetent to stand trial for his crimes by Judge Gilbert Martinez. And yet, he managed to bring four guns and two propane tanks into a health clinic and kill three people: Ka'Arere Stewart, Jennifer Tarkovsky, and Garret Swasey.
While representatives from Planned Parenthood have yet to respond fully to the allegations of lax security, spokeswoman Phillips did maintain,
We believe that our health centers throughout the region are both safe and inviting for our patients and our staff who care for them.
Planned Parenthood has implemented heightened security measures since the tragic shooting in Colorado last May.
"We increased security over the last few months as inflammatory rhetoric about Planned Parenthood increased," said Eric Ferraro, vice president of communications for Planned Parenthood, in a statement. "While we do not disclose specific security measures, some health centers have increased patrols from dedicated security guards, while others have upgraded their monitoring systems."
Unfortunately, these measures were too late to save the victims of Robert Dear. Going forward, it remains to be seen whether changes to security measures within the facilities will be implemented as a nationwide rule, but for now, it seems all involved are still struggling to make sense of everything before them.