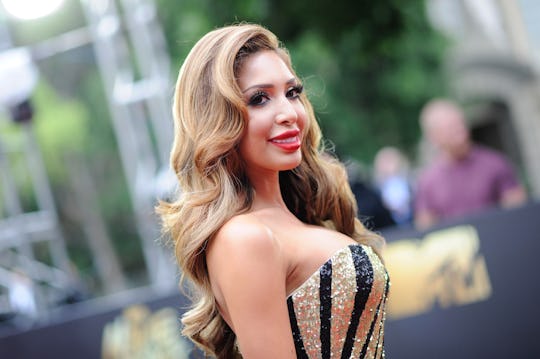 Emma McIntyre/Getty Images Entertainment/Getty Images
Please Leave Farrah Abraham TF Alone
Throughout the past few days, Farrah Abraham has received a ton of backlash for comments she made to a TMZ cameraman on Friday. In the controversial conversation, Abraham revealed that she and her 9-year-old daughter, Sophia Laurent Abraham, have "naked pictures" of each other on their respective phones, according to Cafe Mom. Additionally, Abraham shared that she and Sophia run around their home naked a lot. Needless to say, Abraham's remarks didn't go over well with fans and countless outlets have put her parenting on blast. But what isn't being as widely discussed is how Abraham's comments, including her recent revelations about Sophia, are often taken out of context. In fact, most of Abraham's life choices are ripped apart just for sport. And on that note, can fans please leave Farrah Abraham the heck alone? No one, famous or not, deserves this level of hate.
If you missed Abraham's conversation with TMZ, it went down a bit differently than how it's being portrayed in the media. For starters, Abraham didn't open the chat with, "I have naked pictures of my daughter," or, "let me fill you in on this naked photoshoot I took with my daughter the other day." Here's what really happened: The cameraman asked Abraham what she thought of North West taking a photo of her mother, Kim Kardashian, while she was topless in front of a mirror. Seems like a fair question? Abraham and Kardashian are both reality stars and mothers to young children. Makes sense to me.
In response to the question, Abraham responded, according to InTouch Weekly:
I mean my daughter and I, we just run around our house naked and live life free. I mean, we have naked pictures on our phones of each other because we're like a mom and daughter crew. I mean, my mother has pictures of me being a baby running all over the yard naked.
It goes without saying that Abraham's remarks are put in a different light when you consider the question that prompted them. All Abraham did was provide an anecdote to normalize another parenting situation that was also blown out of proportion. Remember how people attacked Kardashian's parenting and accused her of sexualizing North following the innocent mirror photo? Abraham was simply sharing her two cents on mom-shaming and drawing awareness to the fact that yes, kids and parents often engage in fun and carefree moments together, and that sometimes, these occasions are documented.
Additionally, there is nothing suspect about what Abraham said. Abraham, a seemingly dedicated and loving mom, just admitted to having naked pics of her kid on her phone. Although I'm not a parent myself, I don't think it's uncommon for parents to have nude photos of their children on their phones, whether it be a silly pic of their kid taking a bath or *insert common situation here.*
Regardless, people piled on Abraham for the remarks and some fans even called for Child Protective Services to investigate her parenting. But if you've followed Abraham from the jump, the intense backlash probably wasn't surprising to you.
Unfortunately, Abraham has a long history of being shamed by fans, whether it be for her participation in the adult film industry or for her multiple plastic surgeries. And as for topic of Sophia, people are equally as malicious. From how many gifts Abraham gives Sophia for her birthday to how they're posing in a photo, she can do nothing right when it comes to her parenting.
But why are people so hard on Abraham? To Abraham's credit, she is very confident and proud of her life choices. Abraham, unlike other celebrities, is also very transparent about her decisions and I find that quality quite admirable. In fact, Abraham doesn't see why she has to apologize for being the person she is. "Never apologize for being an ambitious, confident, and strong minded women," Abraham captioned an Instagram post shared in January, according to People.
Of course, my defense of Abraham doesn't mean I condone Abraham's actions towards her producers (I cringed when I watched the footage) or the hurtful things she has said to her former Teen Mom OG colleagues. I'm just not OK with people using Abraham as their personal punching bag, especially when she has survived a lot of trauma in her life.
In addition to losing the father of her child, Derick Underwood, prior to Sophia's birth, she also has a very strained relationship with her mother, Debra Danielsen. And, Abraham has alluded to being abused as a child, according to Radar Online, and she also has said she was raped during her time in the adult entertainment industry.
During a Teen Mom OG reunion in July 2017, Abraham opened up about how her trauma affects her and how she's working towards improving herself, according to Radar Online:
I'm speaking from aggravation. I think of the times where it feels like my arguments or fights are wasted energy that has held me back in certain ways. Over the years, I continue working on how I want to invest in myself and my therapy.
The point here is, Abraham is a work in progress, just like any other person in this world. You might not like every personal decision she makes or you might question her parenting choices from time to time, but at the end of the day, she's just trying to live her life as best as she can. And if people really care about Abraham's well-being (and Sophia's), they'll leave her alone.
Check out Romper's new video series, Bearing The Motherload, where disagreeing parents from different sides of an issue sit down with a mediator and talk about how to support (and not judge) each other's parenting perspectives. New episodes air Mondays on Facebook.