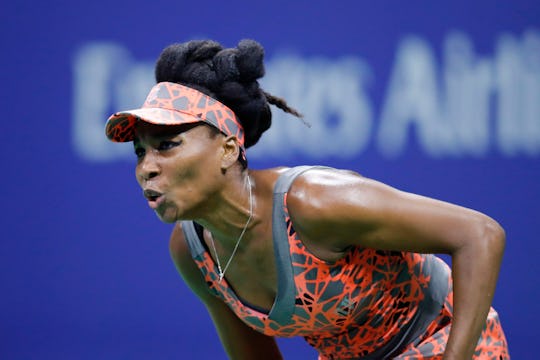 EDUARDO MUNOZ ALVAREZ/AFP/Getty Images
Please Stop Asking Venus About Serena Williams' Baby
Venus Williams has been killing it at the U.S. Open in New York City this year. On Friday, she beat Greece's Maria Sakkari in third round play. But after the game, all anyone wanted to ask the tennis pro about was her sister, who reportedly gave birth to her daughter while her sister was dominating the court. Here's a simple suggestion to sports reporters: Can everyone please stop asking Venus about Serena William's baby?
Hey, I get it. Everyone is super excited to welcome Williams' daughter, who she had with fiancé and Reddit founder Alexis Ohanian this weekend. That baby girl is going to be a champion in so many ways, and watching her grow up surrounded by powerhouse women like her mom, along with Aunt Venus and BFF Beyoncé of all people, is going to be so much fun.
But even though though Venus is reportedly stoked to meet her niece, it's really inappropriate and kind of rude to focus on her sister's good news instead of her own achievements. Especially when she's holding a press conference, after holding her own, at one of the most important, annual tennis championships.
Venus said so herself. The 37-year-old told reporters of her sister's good news, "I'm super excited. Words can't describe." Afterwards, the seven time Grand Slam Champion. "I'm definitely available to answer questions about tennis. That's all right now," she added.
That's really fair. Williams is a tennis champ in her own right, although is often pitted against her sister in the media. Sometimes, apparently, it seems downright impossible to imagine that two talented women — let alone sisters — can actually respect, support, and enjoy each other. Venus wasn't rude about not wanting to talk about here sister's good news. Rather, it wasn't hers to share and she just kicked butt on the court. Both Williams sisters are having a pretty badass Labor Day weekend.
Asking the press to focus on your own achievements is not the same as not being happy for your sister. But let's not put one accomplishment over the other. Having a baby is a big deal. So is dominating in tennis on an international level.
That being said, Venus did say that it was weird to not see her mom in the stands yesterday, though she told reporters at Arthur Ashe stadium that she and her sister were in constant communication. She said, "We always talk, so she's always encouraging me. ... From every step of the way, every match, always." She was also rumored to have bought her own stroller in anticipation for her niece, that way, the little one would have a ride no matter where she was staying.
It's a very exciting time for both Venus and Serena. But don't forget that each one has different things they want to talk about.