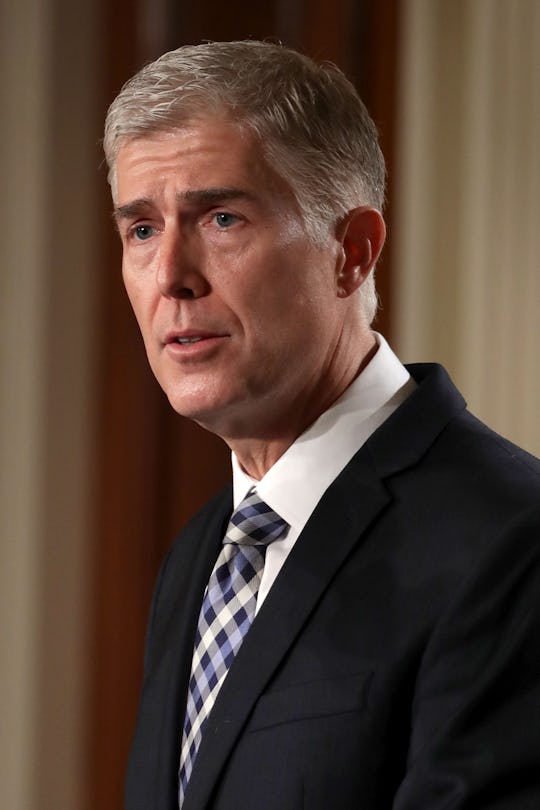 Chip Somodevilla/Getty Images News/Getty Images
Politicians React To Neil Gorsuch's Nomination
President Trump has been on a roll since his inauguration just a little over a week ago (time flies when you're having fun, right?) but Tuesday night was the moment everyone has really been waiting for: his nomination of a Supreme Court justice. Trump gathered Americans around their televisions and Twitter to make his primetime announcement (and arguably crank up the tension level) — and after months of angry back and forth, contentious debate, and drawn out speculation, Trump announced he wants United States Circuit Judge of the United States Court of Appeals for the Tenth Circuit of Colorado, Neil Gorsuch, to take the late Justice Antonin Scalia's seat on the court. Immediately, politicians across the country reacted to Gorsuch's nomination, voicing their opinions about the new POTUS' decision.
Much like many viewers sort of know who's going to win a reality television show before the competition even gets going, there had been rumors that both Gorsuch and Thomas M. Hardiman were invited to the final rose ceremony in the White House East Room on Tuesday night — though it's unclear if the "winner" had been warned to prepare themselves beforehand by producers, er, White House staff members.
Either way, the choice should come as no surprise to voters or Congress, as Trump made it clear early on in his campaign that he wanted a conservative judge to fill Scalia's vacant seat and carry on the conservative legacy. Gorsuch certainly fits the bill.
Politician reacted quickly to the nomination on social media.
Republicans were happy to endorse Trump's pick, although Democrats seemed hesitant to make any official statement soon after Trump and Gorsuch's remarks.
Gorsuch Was Welcomed By Republicans
And Rejected By Democrats
Trump had been giving conflicting messages about which way he was leaning leading up to Tuesday night, much like The Bachelor's Ben Higgins professed his love for two women after a night in the Fantasy Suite. Hardiman had come with a personal recommendation from Trump's sister, Maryanne Trump Barry, according to The New York Times, but Gorusuch had a fan base of his own.
It was also important to the Trump administration that they nominated someone who wasn't too conservative and could swing both ways when necessary, so that Justices Anthony Kennedy, Ruth Ginsberg, or Stephen Breyer, the oldest on the court, would feel comfortable retiring sometime soon and free up another seat for Trump to fill later in his term. So Tuesday's choice was really a tiny move in a much longer chess game that the Trump administration is playing.
Senate Democrats, fearing that Trump is looking to move the Supreme Court as far right as possible (which, for better or worse, he is), have been vowing to block whomever Trump nominated with a filibuster. Trump and Republican legislators will not be happy about this, even though they snubbed President Obama's choice, Merrick Garland, last year, in the name of waiting for this very moment. But given all of the action Trump has taken in the not even two weeks he's been in office, Democrats seem ready to put up a fight. How long that enthusiasm lasts is another question entirely.