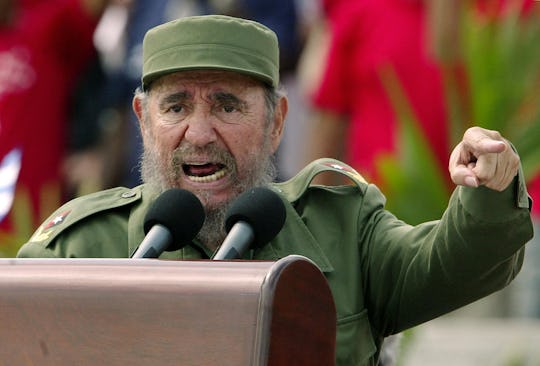 AFP/AFP/Getty Images
Politicians' Reactions To Fidel Castro's Death Draws In Mixed Comments Of Grief & Joy
As the world learned that one of the most divisive leaders in modern history has passed at the age of 90, politicians around the world reacted to Fidel Castro's death. The former Cuban president's death prompted a mix of comments from world leaders, with some offering their condolences and mourning his passing while others celebrated and shared harsher reactions of joy. Despite the divided opinions, the world came together on Saturday morning to remember the iconic communist leader.
According to CNN, Castro's brother, Raul Castro, announced his death in a televised statement on Friday night. He said, "I say to the people of Cuba, with profound pain I come here to inform our people, our friends of America and the world, that today, 25 November, 2016, at 10:29 pm, died the chief commander of the Cuban revolution, Fidel Castro Ruz."
Soon after the news reached politicians around the world, comments and statements followed. In the United States, President Barack Obama offered his condolences to the Castro family and noting that Americans will "extend a hand of friendship to the Cuban people."
Despite a tense political relationship between the United States and Cuba that lasted nearly 60 years, Obama said that his administration has "worked hard to put the past behind us" during his presidency.
"In the days ahead, they will recall the past and also look to the future," Obama said in the statement. "As they do, the Cuban people must know that they have a friend and partner in the United States of America."
President-elect Donald Trump, however, had a very different response and delivered a much more defiant statement, issuing a typical Trump-style, yet succinct tweet:
In an official statement, Trump condemned Castro as a "brutal dictator who oppressed his own people for nearly six decades."
The statement continued:
Fidel Castro's legacy is one of firing squads, theft, unimaginable suffering, poverty and the denial of fundamental human rights. While Cuba remains a totalitarian island, it is my hope that today marks a move away from the horrors endured for too long, and toward a future in which the wonderful Cuban people finally live in the freedom they so richly deserve.
Vice president-elect Mike Pence also had a similar statement and commented on Castro's death on Twitter:
Elsewhere around the world, more political leaders reacted to the former communist leader's passing, including Russian president Vladimir Putin. According to USA Today, Putin regarded Castro as a "symbol of a whole era of modern world history" who was "an inspiring example for all countries and peoples" and a "sincere and reliable friend of Russia."
USA Today also reports that Chinese President Xi Jinping sent a telegram to Cuba on Saturday, sending his condolences and noting Castro was a "dear comrade and true friend" of the Chinese people who made "immortal contributions to the development of socialism around the world."
Syrian President Bashar al-Assad also echoed a similar tone and remembered Castro as a "great leader" who "efficiently led the struggle of his country and people against imperialism and hegemony for decades, and that his steadfastness has become an example and an inspiration for leaders and peoples everywhere in the world," according to a statement published by the Syrian Arab News Agency.
Assad continued, "The name Fidel Castro will remain etched in the minds of all generations, as an inspiration for all the peoples seeking true independence and liberation from the yoke of colonization and hegemony."
President of India Pranab Mukherjee also delivered his "heartfelt" condolences in a tweet early Saturday morning, noting Castro was a "friend of India."
Prime Minister of India Narendra Modi also posted a tweet, regarding Castro as "one of the most iconic personalities of the 20th century" and his death marks the "loss of a great friend."
According to USA Today, Mexican President Enrique Peña Nieto posted a tweet in Spanish that said his country is mourning Castro's passing as he was "a friend of Mexico."
Across the ocean, British foreign minister Boris Johnson posted a tweet that Castro's death "marks the end of an era" for Cuba.
As reactions and statements from world leaders continue come in, Castro's death certainly does mark the end of era for Cuba and for the rest of world. Although many political figures opposed Castro's rule, it's clear that he will be long remembered as a defiant leader.